Mexico Caravan Blogs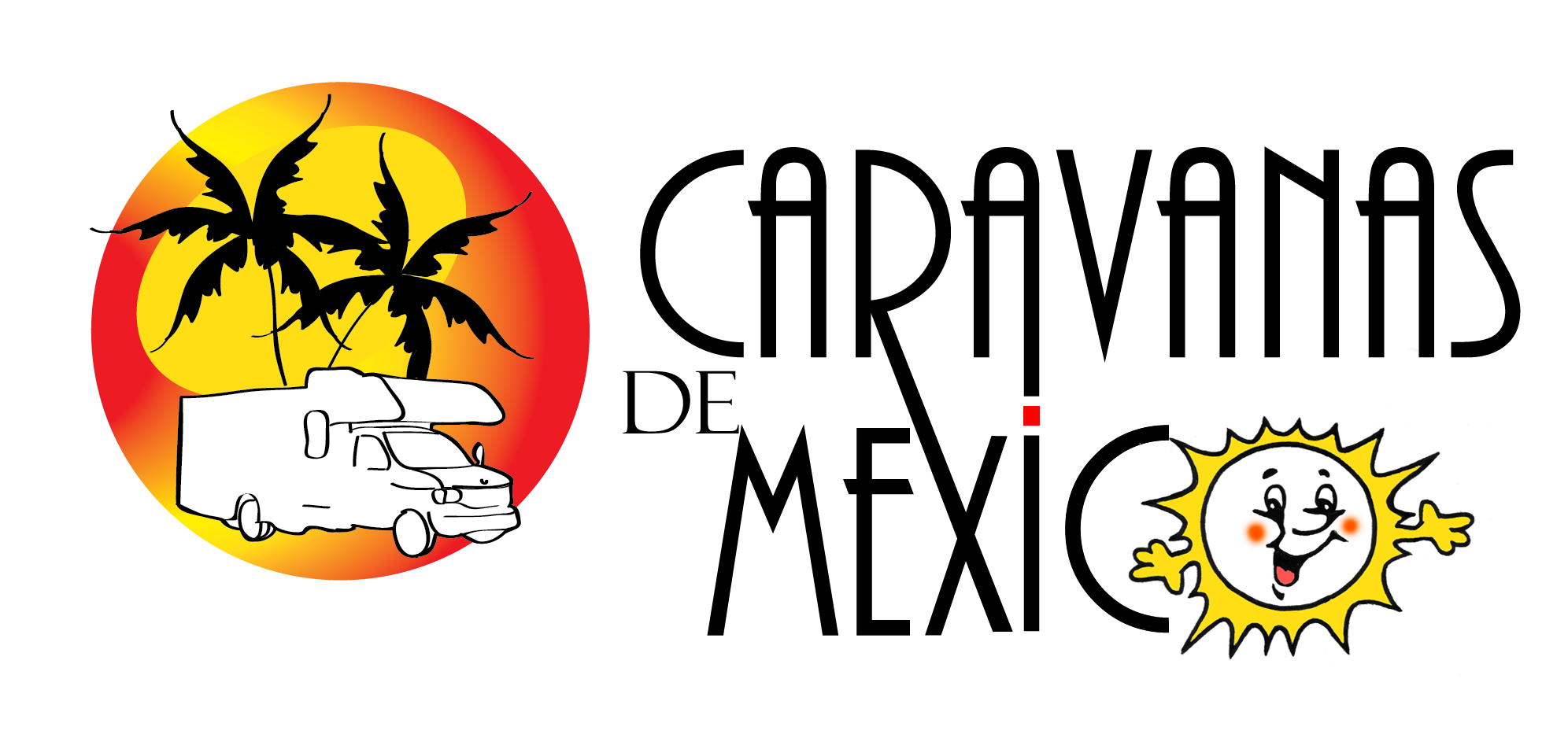 The Yucatan & Chiapas
Paul Beddows
Former Wagon Master
Originally published in RV Snowbirds Magazine Sept 2019.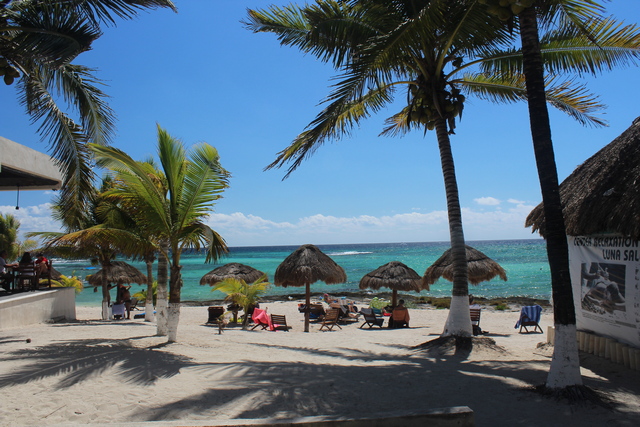 Paamul
Most people's impression of the Yucatan come from trips to an all-inclusive hotel in Cancun or Playa del Carmen, along with a trip to a couple of the most often visited Mayan Ruins, Chichen Itza and Tulum. While those beach locations are certainly nice and there is no doubt Chichen Itza and Tulum are significant archaeological sites, there is much more to the Yucatan & Chiapas that can only be explored by car or RV. When it comes to Chiapas, relatively few Canadians & Americans have visited this unique area of Mexico, one of the most beautiful, albeit least developed, areas of the country.

I have led 2 RV caravans through these regions within the last 3 years. I do suggest you utilize a caravan for this route unless you are very familiar with it. It can be difficult for those who have not driven it before and some areas can be a bit risky, due to a history of political instability in parts of Chiapas. Since the area is less traveled, it is a good idea to do it with a companion in case of a breakdown.

For those who have previously taken their RV into Mexico, both regions are more difficult than what you will have previously experienced in the north. The RV Parks are fewer and farther between, and the highway & toll highway infrastructure is not suited for really large rigs. My best advice is to not attempt it in anything larger than a 36 foot Motorhome or with anything longer than a 28 ft trailer or 32 foot 5th wheel. If you are using a caravan, check your rig size out with them before signing up. Do not assume you will have regular access to organized parks, and prepare yourself for more dry camping. The only company running English language caravans in this area is Caravanas de Mexico. Amigos Rodantes also do it in French. Both companies have the experience to safely run caravans through these areas.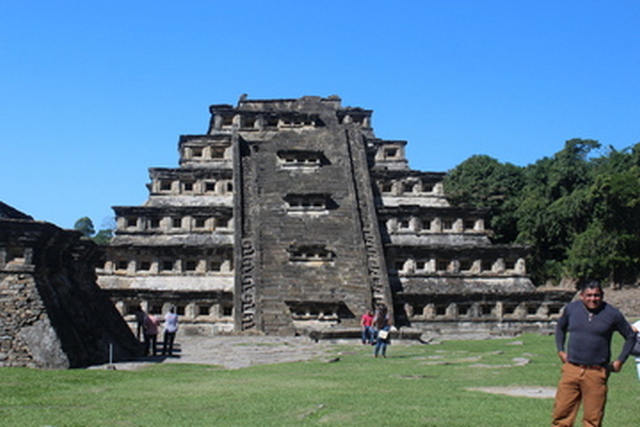 El Tajin
The best route to the Yucatan is to cross at Laredo or Mission Texas and head for the north of Mexico city. I do not advise using the Brownsville crossing and heading directly south. The road is in poor condition. If you are coming from the west you can take the toll highway from Nogales through Mazatlan to Guadalajara, Morelia and Mexico City. There are 2 RV parks to stay in at the north end of Mexico City. Teotihuacán RV Park and Pepe's RV Park. Pepe's is best for larger rigs. From either of those you can now reach the "Emerald Coast" on the Caribbean side of Mexico in one day. There is a new toll road over towards Poza Rica and then on to Monte Gordo and the "Emerald Coast'

Until the 2008 recession there were several RV Parks strung along the Emerald Coast, but many have fallen into disrepair or have closed. There are 4 or 5 of them still open in various states of repair. My suggestion is Mar Esmeralda, which still seems to be fairly well maintained (N 20.30091 W 96.84562 ). Once advantage to this park is that it is fairly far north and easier to take a taxi to visit the ruins of El Tajin. This site has a distinctive architectural style not found elsewhere in Pre-Columbian Mexico. The site is not Mayan, it is part of the Veracruz culture and predates the Maya. You will not find it crowded with tourists, they probably number less than 100 visitors a day. This is also an excellent location to witness the Papantla flyers. Wind permitting they will scale a high pole and descend upside down hung by ropes. Although you may see demonstrations of this elsewhere in Mexico, this is where it was thought to have originated. It is, however, known to have been practiced by other Pre-Columbian civilizations.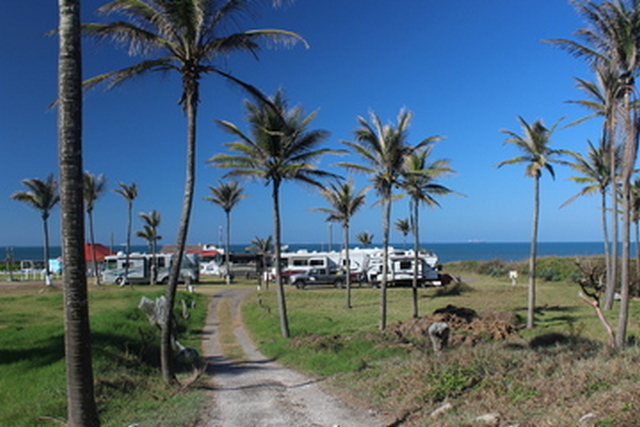 Veracruz
Heading south along the coast, the next logical RV stop is Veracruz. There is one RV park still operating just south of the city, Coco Aventuras (N 19.05157 W 96.01305). It is a nice park, but access can be tight so you have to take it slow. It is actually not in Veracruz itself, but Boca del Rio.

Continuing south down the coast from Veracruz is the medium sized town of Catemaco. Villas Tepetapan is a very nice RV park with good services operated by an American couple. ( N 18.41889 W 95.12139) Catemaco lake is a few minutes walk away and you can hire a boat to tour this lake with its many islands. Some are inhabited by distinct species of primates introduced by scientists who wanted to study them in an isolated environments. Many are not native to North America so the island setting keeps them from invading the mainland. This lake is also a bird watchers paradise.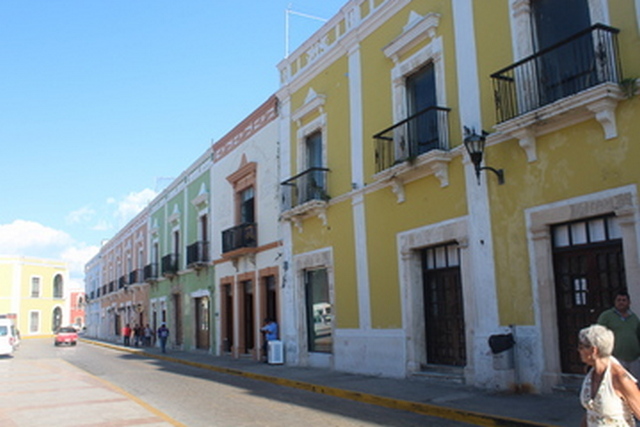 Campeche
From Catemaco one can make Isla Aguada in one day, or you can break it up with a stop at the El Gordo y San Pancho / Balneario in Villahermosa. This is not a developed RV park, just a few hook-ups next to a swimming pool complex, but you should visit La Venta Park to view the many carved Olmec heads, a unique sight in Meso-America. From Villahermosa, the beachfront RV Park in Isla Aguada is a nice place to relax for a day or 2. This park has full hook-ups.

The city of Campeche should be your next stop. One of the few places left to camp here is Kin Ha Balneario, a swimming complex that used to have a full service RV Park. (N 19.8294 W 90.49449) That is now abandoned, but they do allow camping across the street and will supply power & water. There is also a nice pool and an opportunity to dump at the old RV Park area.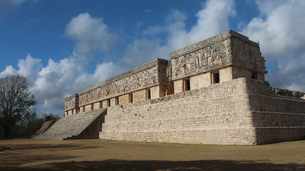 Uxmul
From Campeche, don't miss the Mayan ruins of Uxmal, an easy detour off the main highway. These impressive, well restored ruins are nowhere near as crowded as Chichen Itza, as they are just a bit too far for day trips from Cancun.There is a large field opposite the entrance you may dry camp at for a nominal fee. If you buy drinks or a meal at the hotel restaurant opposite, you can often negotiate access to their pool.

Moving on, the city of Merida is one of the safest and is considered one of the most beautiful cities in Mexico. Unfortunately the only RV Park there is probably not long for this world. (Rainbow N 21.04206 W 89.62904) It is roomy, but not well maintained and is surrounded with new commercial developments. The Liverpool shopping center next door has a full size indoor ice rink. Watching Mexicans trying to ice skate is an amusing activity, especially for Canadians. There are many local tour opportunities to explore Merida. If you have transport, Celestun to the north is known for its pink flamingos and nearby pink lakes at Las Coloradas (No connection, the flamingos are pink due to their diet). You can arrange a tour out of Merida. November to March is the season.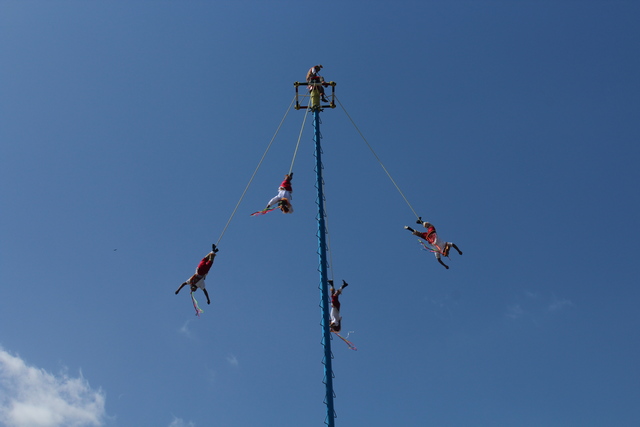 Pamplona Flyers, Veracruz
From Merida you can easily make it to Piste, the small town where Chichen Itza is located. The Hotel Pyramide offers dry camping out front and Chichen Itza is less than a kilometre walk. (N 20.69373 W 88.58288) Get there at opening and you will have the site almost to yourself until the tour buses from Cancun arrive. After that, there are 5000 tourists a day on this site.

If you wish to visit Cancun (I can take it or leave it) there are 2 RV parks open there. The Mecoloco and and the Canadian-run Camping Cancun RV Park ( N 21.08627 W 87.00388). Myself, I prefer to skip Cancun. There is a new toll highway from the Chichen Itza area direct to Playa del Carmen. The Maya coast has seen huge development over the last decade or 2 and many RV parks have disappeared. The one surviving (albeit shrinking) park that can handle larger rigs is located at Paamul. (One does not get the impression they value RV business, and you are camping amidst full time Palapas and Casitas, with no view of the beach. This is probably the most expensive park in Mexico at about $50 US per night. The beach is gorgeous, but if it rains, the RV parking spots are a sea of mud. This area of the coast is definitely set up for the vacation package types, not RVers. (N 20.52638 W 87.19701)


Lake Bacalar
As you head south, the development thins out south of Tulum, and there is little else until you reach the sizable city of Chetumal just north of the Belize border. There is a very nice RV park here, the Yax Ha. (N 18.56093 W 88.24965) It has grassy sites, a pool and restaurant, but only a one central water supply & sani-dump. From this location you may take a taxi to visit the impressive but un-crowded Mayan ruins of Dzibalche and Kohunlich. The former is noted for its large pyramids, the latter for its carvings. You will likely be the only ones there. My favourite destination from Chetumal however is Lake Bacalar, described as the Maldives of Mexico by some, or the lake of 7 colors. It is actually a conglomeration of 7 Cenotes (sink holes) of varying depths which gives the lake it many colors. Boat cruises may be arranged from the town of Bacalar. The lake is fed by underground streams from the mountains of Chiapas and is crystal clear.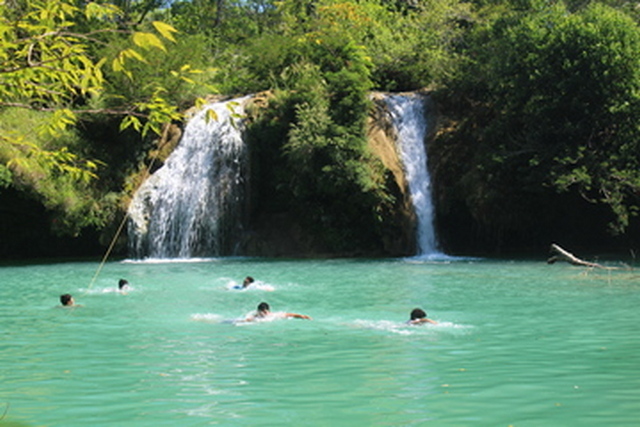 Near Palenque
Onwards into Chiapas, the next logical destination from Chetumal is Palenque, but it is a long days trip. There are 2 Pemex gas stations at either side of the town of Xpujil that allow overnight parking. (N 18.509254 W 89.411203) If you have transport, you can visit the impressive ruins of Calakmul, 40 km south of the main highway. The turn off is 60 km west of Xpujil. You may arrange a colectivo to take you to the entrance from Xpujil and then another one licensed to take you into Calakmul from the highway. Please note you may not take any pets, even in your vehicle, as you have to pass through strict native reserve. The ruins at Calakmul are some of the largest in the Mayan world and rise right up out of the jungle. Few visit them and the experience is magical. If you can arrange to be back at the main highway before sunset there is a 15 minute trail that will take you to a bat cave near km 106 where thousands of bats emerge at sunset. Parking is limited. This is a long day. If you wish to be back at the bat cave by sunset, you need to an early start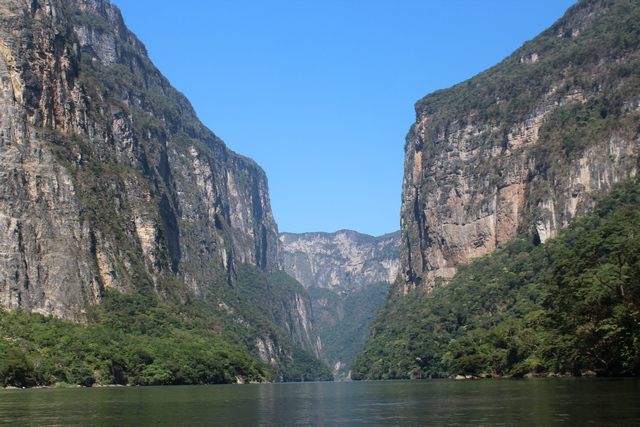 Sumidero Canyon
The next spot on the route is Palenque. The Hotel Nututun is probably the best spot to camp here. (N 17.48342 W 91.97469) It has some power and one central water supply & dump. Tours to the ruins may be arranged by the Hotel. 3 years ago I led a caravan from here to the town of San Cristobal de las Casas. There is a direct highway, but it took us 9 hours to go just over 160 km. Part of that was due to being held up by locals upset at the government neglect of the area. We paid them and continued on after an hour or 2. This area is where the Zapatista movement was active and is not considered that safe. The recent election of a new president who comes from this region have hopefully eased tensions. The highway is not very RV friendly and is in poor shape. Despite the longer trip, you are better to go the long way around via Villahermosa & Huimanguillo in order to reach San Cristobal de las Casas.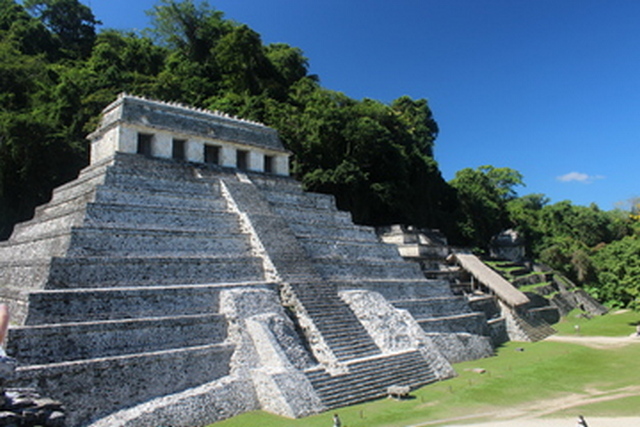 Palenque
There is no RV Park remaining in San Cristobal de las Casas, except for a small one only good for small rigs, but you may park in Sams Club. Between San Cristobal and Tuxla is Chiapa de Corzo. From here, it is a must to take a boat trip up Canyon Sumidero, one of the deepest in the Americas. There is a bus storage yard in Chiapa de Corzo (las Palmeras) that will allow RV parking. (N 16.726038 W 93.017336) For our caravans we now park RV's at Hogar Orphanage west of Tuxtla and do a 2 day bus trip to both Canyon Sumidero & San Cristobal. (N 16.775358 W 93.384737) It avoids a 2 way harrowing drive through Tuxtla. Hogar is run by a non-profit out of Oregon and is well worth a visit. They do have a few hook-up RV spaces. On our last caravan through there we raised enough money to purchase 2 fridges and a washing machine. If you can make it to the San Cristobal area, the nearby village of San Juan Chamula is well worth a visit. You really need to get an organized tour to it however. The church there is one of the strangest sites I have seen. They chased off the priest some time ago and animal sacrifices (generally chickens) are performed inside to heal the sick. Keep in mind this is a very traditional Indian town and there is some hostility towards tourists especially if you are not respectful. Be sure to ask permission before taking any photos. Photos & videos inside the church and of people and ceremonies, either inside or outside the church, are prohibited.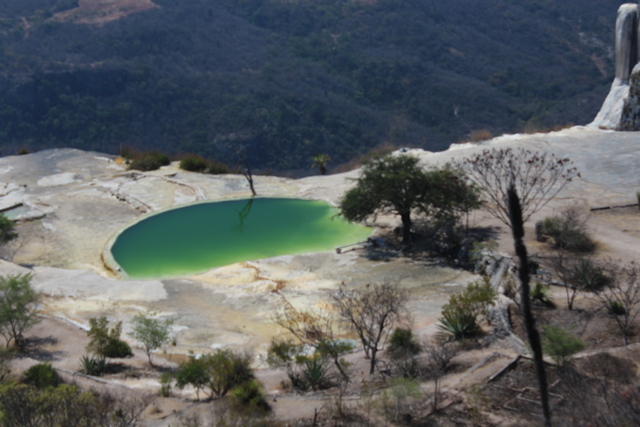 Oaxaca
I usually head to Hogar orphanage before heading back north. The next full service RV Parks heading north are in Oaxaca and it is too far to make in one day. You need to find a Pemex gas station to overnight in. The town of Santa Maria de Xalapa, does have a football field that they allow caravans to use, I am not sure of individual rigs, however you can easily find a 24 hour Pemex to stay in somewhere along the way. Oaxaca has 2 RV parks, both on the south side of the city. From Oaxaca, you can reach Puebla or the Mexico city area in one day, and your loop is complete.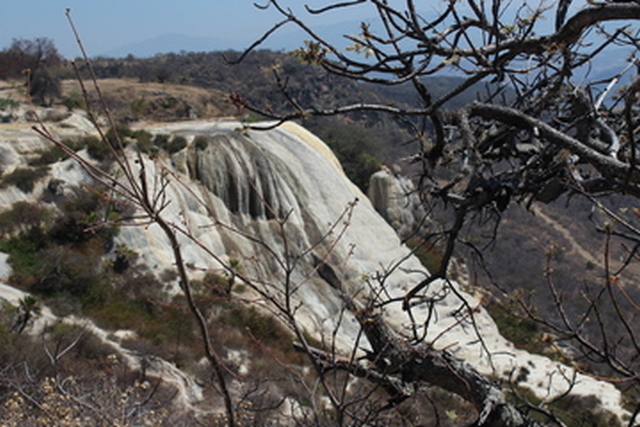 Petrified Waterfalls, Oaxaca