Oct 5, 2015
My name is Paul, and along with my sister Jill, we are the wagon masters for the Fall Caravan. This is a small caravan (4 rigs). It was supposed to be 5 rigs, but one participant decided to wax his RV and fell off the ladder & broke his heel. I guess I should have told him he could have hired some Mexicans to do it for him. There is still the possibility of picking up a last minute, but it is unlikely. We going anyway. We have Frank & Lynn from Oklahoma, Wayne & Petra from the Vancouver, BC area and Lauran & Marian from Texas. I am picking up Gabriel, the owner, in Phoenix on the 12th and he will be with us for a lot of this trip.
We stayed overnight in Torklifts parking lot in Sumner, Wa, waking up surrounded by employees vehicles. It was an empty lot the night before. We had a super hitch and their new glow steps installed. Those solve the diving board effect of most RV steps. A bit more work to deploy, but well worth it. Great product as is all of Torklifts stuff. IMO, a truck is not a truck unless it's loaded with TL products. I have some TL baseball caps for our customers. Quite a nice thing to have actually. I can see who puts them on backwards and note them down as potential troublemakers.
Oct 7, 2015
We arrived in Livermore, Ca to visit Tom & Nancy, 2 customers from last Fall. Yes folks, once you become one of our customers you have to put us up every time we are in your area for the rest of you lives. It's in the fine print you never read. We went out to dinner and downtown was full of 100's of witches, some sort of annual celebration. We missed the cackling contest, but my wife was not there to compete, so no point. Tom & Nancy were the couple on the caravan last year with the 2 German Shepard's. Bronic is now even larger. It was quite amusing watching him snapping at flies on Toms bare leg. It amazing he still has them.
Oct 8th, 2015
A quick stop in Bakersfield to set up a repair for my Trailer in December, demo the Torklift steps, and to drop off some Canadian Maple Syrup for the Service Manager, we then pushed on to Barstow and camped in a Walmart.
Oct 9th, 2015
Well we made it in one piece through Surrey, BC & Roseburg, Oregon without getting shot, We missed the sniper on Interstate 10, and we bypassed Flagstaff. Looks like we may get to the relative safety of Mexico alive. Stopped at a McDonalds yesterday and a guy got out his car with a gun in his hand, causing momentary panic with us & other customers sitting up against the window, but he then stashed it back in the car. Makes you wonder what's happening with the US & Canada these days. It ain't "Leave it to Beaver" land anymore. We arrived in Phoenix at a 1000 Trails RV park, Jill won 3 free nights at back at an RV show. It's like a WalMart parking lot with a pool & 50 amp service without the attached McDonalds. Mind you, they do have greeters. Apart from that, I can't think of many RV Parks in Mexico I would want to stay at less than this place. It seems to be built on the general pattern of Snowbird parks around here. Now I know why I go to Mexico for the winter. I could never be happy in Arizona.
This one we are in is Arizona "RV Park of the year". Looks great, huh?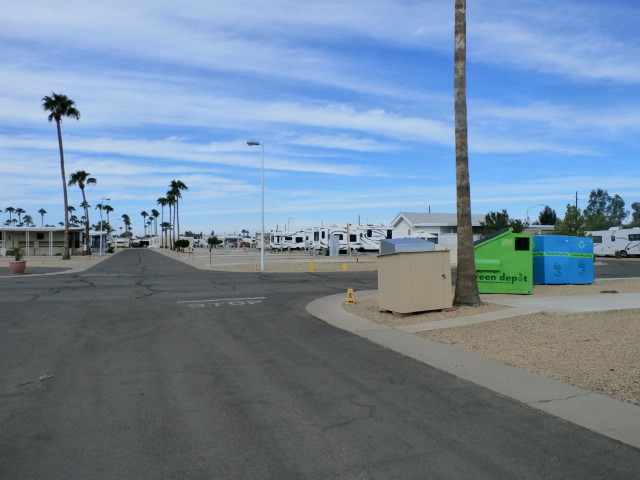 Oct 11th, 2015
Another hot day in the parking lot resort.
A lot of customers think I run this caravan company or am a partner in it. I do not. I don't even make any money from it. I am a wagon master for it and I do all the orientations for American & Canadian customers and try to sort out the problems with dealing with 3 currencies.
This is probably the time to give some history of my relationship with it. I ran a Mexico RVing web site. I still do. Anyway, a few years ago Gabriel (owner of Caravanas de Mexico) bought some advertising on that site and told me he would meet me in Puerto Vallarta to pay me for it. At that time I had no idea how sneaky he was. He tried to talk me into helping him with a caravan endeavor. I resisted for year, since my wife does not like leading caravans. She gets less attention when I do that, something women seem to crave for some strange reason. They consider it more important than things like watching football. Strange creatures, but we have to tolerate them for reasons most of us know about. Anyway, I digress. A few years back, RVing in Mexico was in slump due to all the bad press. A couple of campgrounds (notably Huatabampito) where I had become almost family were suffering (how many RV park owners give you a hug when they see you again? I don't even hug my own mother, despite being somewhat fond of her), so I saw it as an opportunity to get them more business. Besides, if some closed down, where was I supposed to camp? I gave in and agreed to do it, and to be quite honest, I have seen so many of my retired friends die because they do nothing, it was an opportunity to do something new. Dying after you retire. or intending to sponge off the government for several years, is not cool. I had already started an RV club after retirement which is now a non profit operating in Canada, the US & Australia (NATCOA). Been there, done that, off the bucket list. I was enjoying practicing entrepreneurial skills without taking any personal financial risks. Gabriel has since become a close personal friend and he pays my expenses leading this caravan, so it comes out in the wash. We are still running smaller caravans and this is not his main business, so I am happy to help him build it and maybe make a bit off it in future. In the process I am becoming well known as a writer & seminar presenter. Sold my first article to Trailer Life, recently. To be quite honest, what I really enjoy about doing this, is introducing RVers to Mexico, a country I have have become very fond of, especially the country outside the all-inclusive resorts. I hate time share salesmen almost as much as divorce lawyers & dentists. If I did not have a handicapped son in Canada that I was accountable for, I would consider moving down here permanently like my brother in law, who has no obligations.
Anyway I came across this web site which is somewhat amusing and very true: Ten signs you are a first time traveler in mexico
Oct 12th, 2015
Question: How do you know you are in a "Plus 55" RV Park?
Answer: The Pool rules state that only adults are allowed in the pool with diapers on. (Yes it does state that in this RV Park)
Last time I was afraid to go in the water, was after I saw "Jaws"
Anyway this morning we say a fond goodbye to this RV Park. I will miss the hot asphalt & "Trailer Park Boys" ambience created by the so-called Park Models. Some folks arrived from Alaska today to spend 6 months cheek to jowl with their neighbours, fighting over a golf cart to carry them to the laundry room, where rules must be obeyed without question. Heaven help you if your dog crosses over one of the no-go thresholds. Paradise.
We pick up Gabriel around noon after he flies in from Montreal and head to Nogales. If all the group is there, we will cross a day early to allow some time in San Carlos to do laundry & shop. I will continue this blog next time I have net access.
Well, we picked up Gabriel 1.5 hours late and booted it to Nogales. All the others were there and we headed up to the Chinese smorgasbord and decided we would cross early the next morning, one day early and get ,the extra day in San Carlos. It seems like a very good group, most have a good sense of humor which helps a lot, and I feel confident we will have a lot of fun on this trip.
Oct 13th, 2015
An early 7:30 AM start. A good job, we had a few snags at the km 21 border permit station,but all were resolved and we pulled into Totonaka in San Carlos around 5 PM. Very warm here, also around 95 F and quite humid. Unusual weather, much warmer than normal for this time of year. Insisting on CB's seems to have been a good move, the communication problems we have experienced in the past seem to be solved. We are all pretty beat after this long day and looking forward to doing little tomorrow. My wife (back in Canada) is in a panic since she needs her birth certificate to renew her drivers licence. It's here in the RV, so I will find the DHL office in Guaymos tomorrow and send it home. Should be no hassle. I will try to upload some pictures tomorrow.
Oct 14th, 2015
Basically a do nothing day, some grocery shopping & laundry. Well it was supposed to be. I received a panic call from my wife at home (as opposed to my one here in Mexico?). She needed her birth certificate which happens to be in our trailer. I had to go hunt down the DHL office to send it home. I also lost one of my debit cards in an ATM machine. My fault, I was helping a customer on the adjacent machine and forgot to remove it, and it got eaten. I should know by now that I am utterly incapably of doing 2 things at once. All ended well, however, and I retrieved it from the bank later on. We did a happy hour where I attempted to teach the Spanish numbers. We are going to have work a bit more on that one. Got the proof of my Trailer life article by email today. It will appear in the December issue. They did quite a bit more editing than I would have cared for, but I am just happy to get an article in a magazine this large, and actually get paid for it.
Oct 15th, 2015
Today we did our usual tours of the San Carlos area. We started with the Sea Lion show. I never get tired of that one, it changes every year. They invited a young kid in to play soccer with one of the Sea lions in the pool and then we all had an opportunity to be kissed by one of them. Another bucket list item out of the way. I did, however, decline on the French kiss offer. After all, it was male Sea Lion, and my orientation is not that way. Not that I can tell the difference between a male & female Sea Lion, anyway. Can you imagine an aquarium in Canada or the US allowing children, or other audience members into the pool to interact with a 600 lb Sea Lion? The place would be overrun with lawyers. One of the reasons I love this country. Following that, we visited the Pearl Farm. We have one customer on this trip who is pretty much confined to a wheel chair most of the time and we actually managed quite well. It's a good experience for us, as it is allowing us to learn how to cater to the disabled on future trips. I think in Spring we have a couple of customers that may be even more of a challenge. Yes, I am referring to vegetarians. That may be a challenge. If God had not intended us to eat meat he would not have invented Burger King (that was on the 8th day, BTW) or make animals so darned tasty, or even make them out of meat.
I forgot my camera yesterday, so photos of today will have to wait until I can glean some from the others.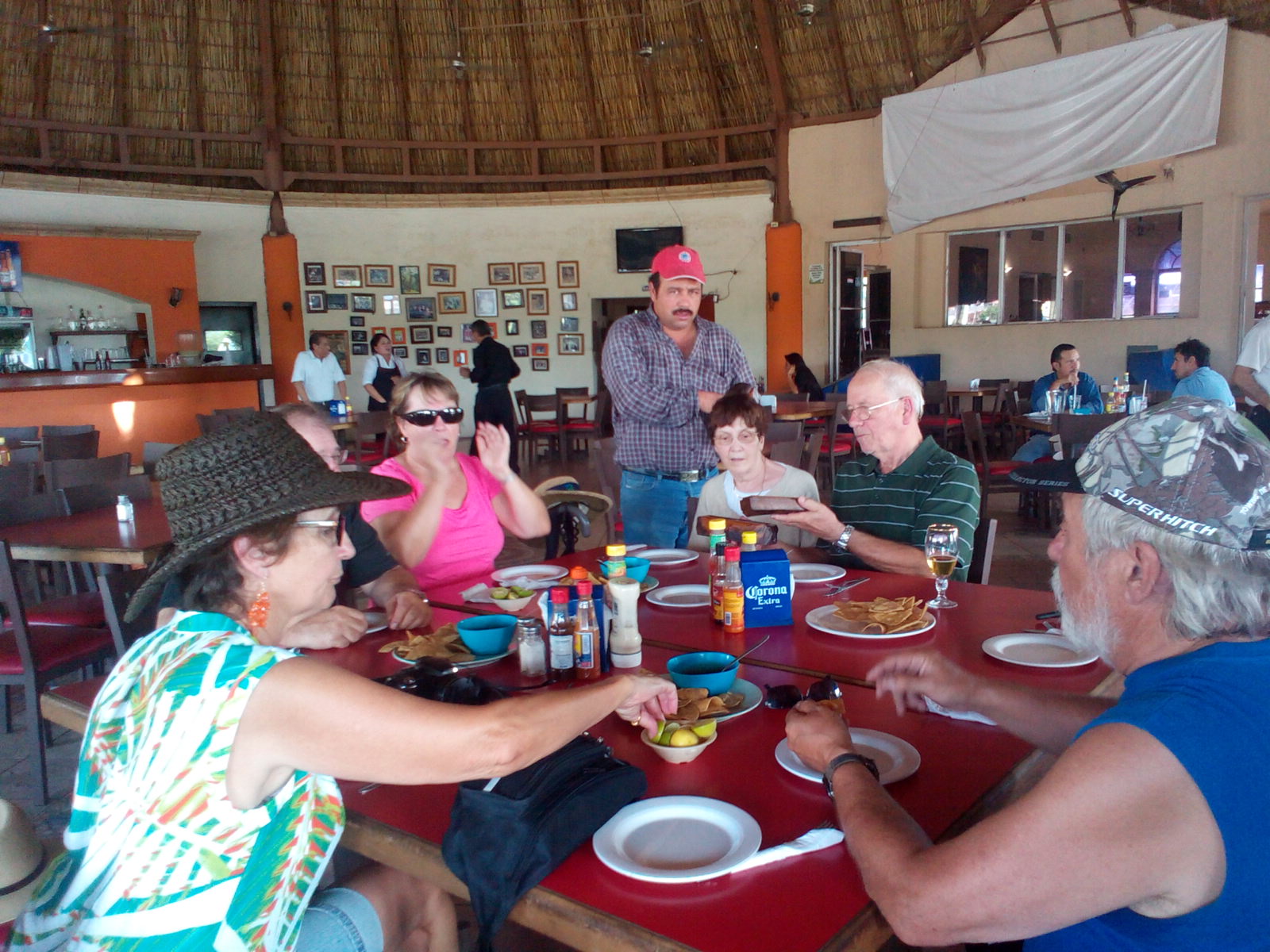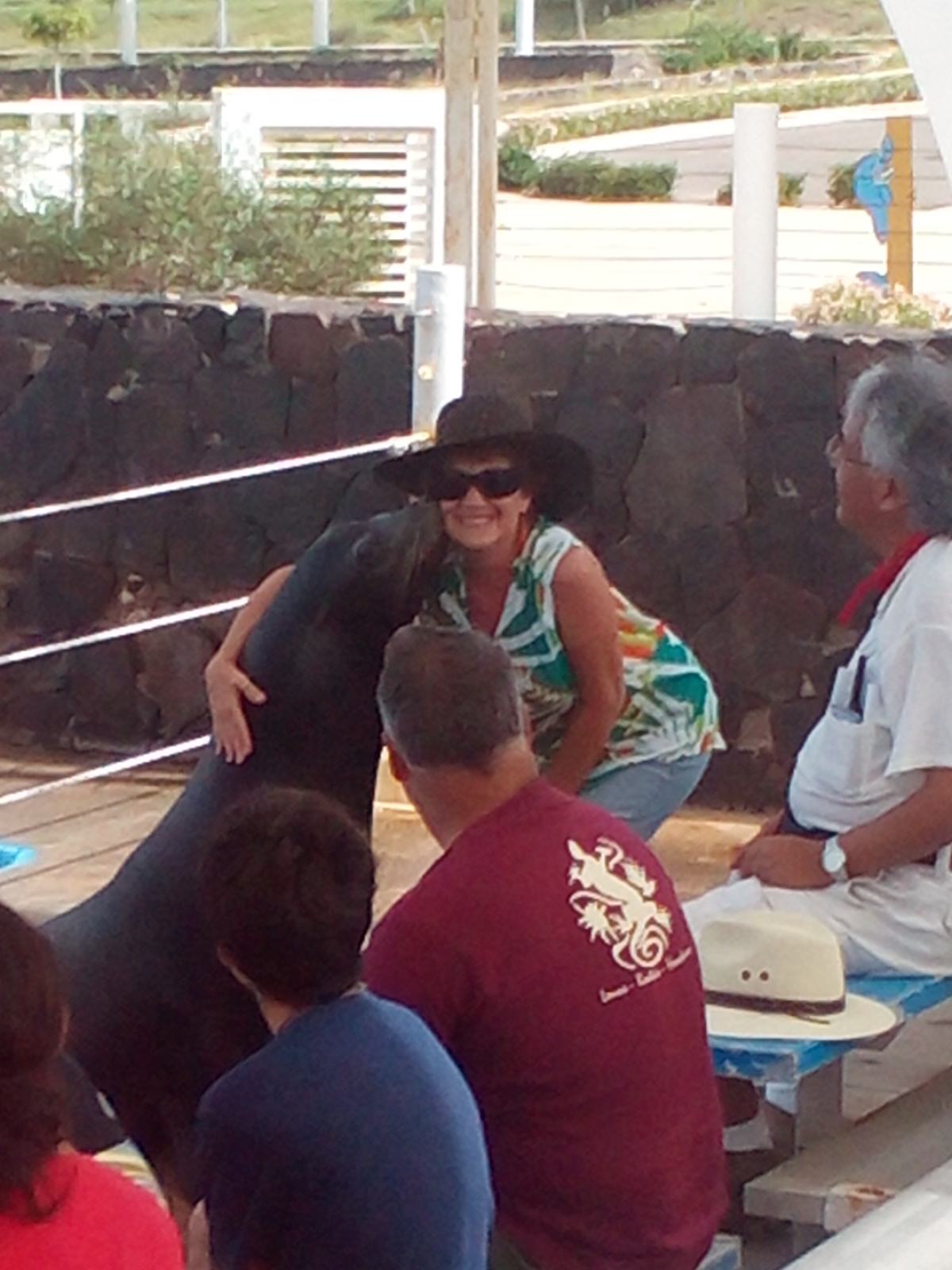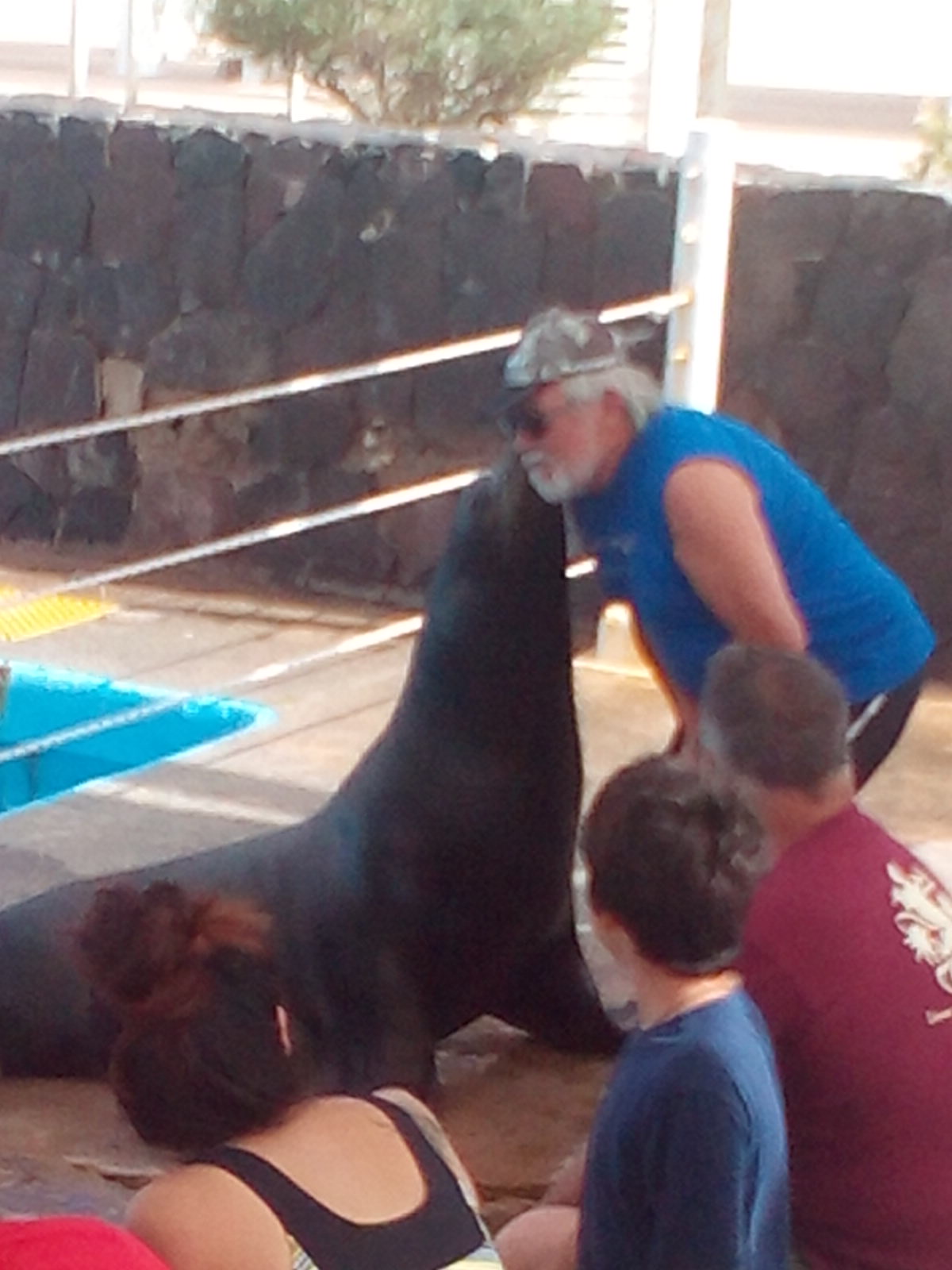 Oct 16th, 2015
We drove to Huatabampito today, about 5 hours and had the welcome dinner & entertainment on the beach . It's so darn hot, I have never seen heat like this at this time of year, the locals are all saying the same thing. It will be a relief to get Copper Canyon & high altitude. I am just glad we are not in my sister in laws Truck Camper like we were this time last year. It had no A/C and it was no problem. This year, we would have died, it's about 15 F above normal for this time of year. The ocean is much warmer than normal as well. Enrique the owner says a cold front is coming in on Monday.We had to repair Wayne's spare tire carrier which came loose, and also rescue a Mexican who had locked his keys in his trunk. We had to remove the back seat to do that one.
I apologize for the poor quality of many of the photos, they will get better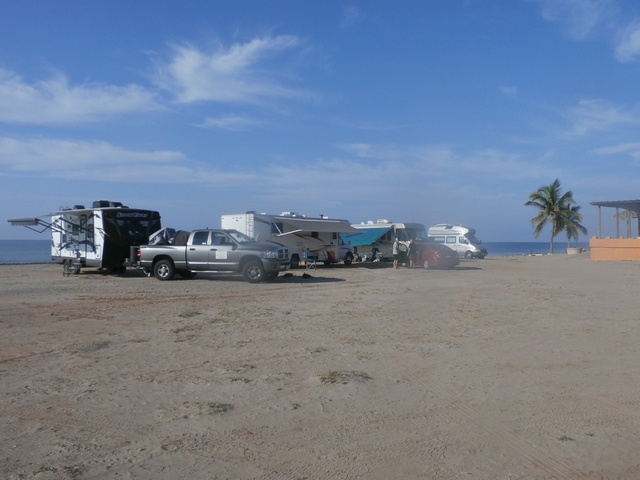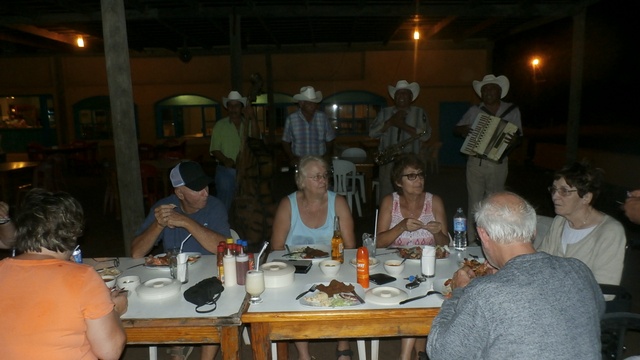 Oct 18th, 2015
A later departure today for El Fuerte. 11 AM. The road out to the Cuota was in far worse shape than last year and it took over an hour to do the 20 km, often driving down into and back out of potholes. In Spring we are going to have to avoid it, it has simply become too bad. Wayne lost his camera. he left it on the table in the restaurant . He is as absent minded as I am. When we got to El Fuerte, I knew my camera was in the truck and asked Jill to grab my case. She said the camera was already in there. Turned out to be Wayne's. Seems like I am a camera kleptomaniac. Anyway's, he was relieved to get it back & I have found a new way to make customers grateful to me. We had a good time at the El Zorro show, and we picked up a few extra folks on another of Gabriel's tours from Oaxaca. It was a bit of a challenge pushing Marian up the ramp to the restaurant in her wheelchair, that sucker is steep, and long. However, she seemed to have a great time, and she is a real trooper. Zorro once again seemed to be after Jill. She must send out "I'm available" signals. As you can see below, Wayne scored. We have to be out of here at 7:30 AM to catch the train to Copper Canyon.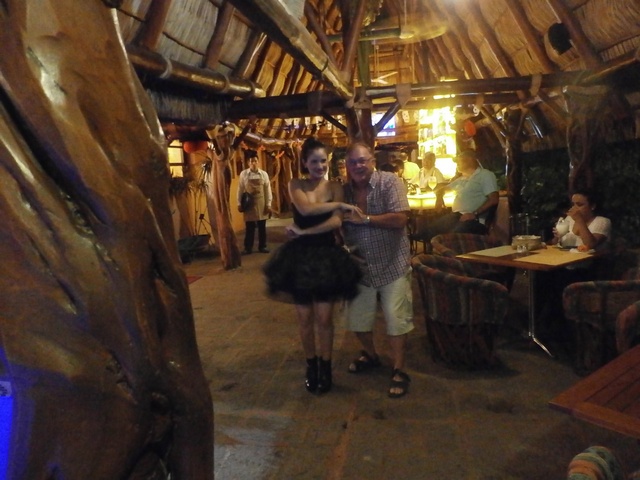 Oct 19th, 2015
Up at 7:30 Am to catch the train to Copper Canyon. This year I got smart and put bright pink tape around everyone's luggage to avoid a repeat of last year where another tour group getting off one stop earlier took one of our bags. We now have a psychiatrist. and a medical doctor along with the new 5 participants for his segment, so we are ready for anything. It was quite a show lifting Marian up into the train, intact in her wheelchair. Thank God she is not 300 lbs. She did look somewhat apprehensive about the procedure. We arrived about 4:30 and headed to the Hotel where we found out about the upset Federal Election back in Canada.
The welcome dinner went well . We were entertained by a trio of musicians, but it was actually a duo, as one of them was apparently recovering from a bit too much Tequila, however the other 2 were immensely entertaining.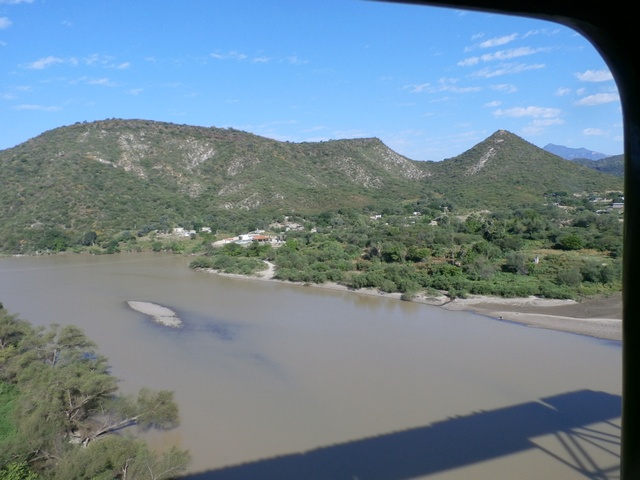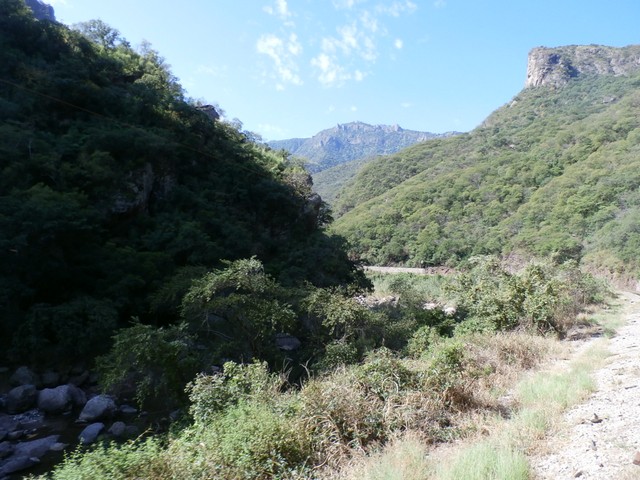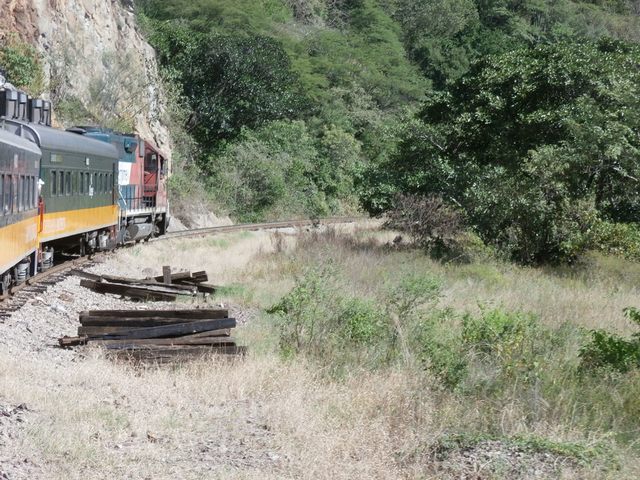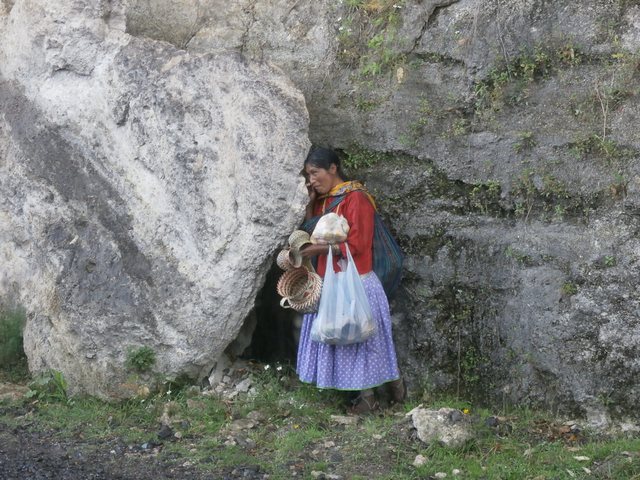 Gabriel, Jill, Frank & Lynn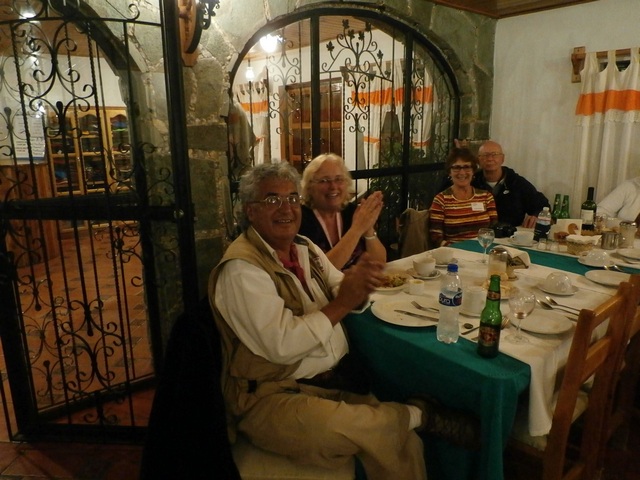 Frank & Lynn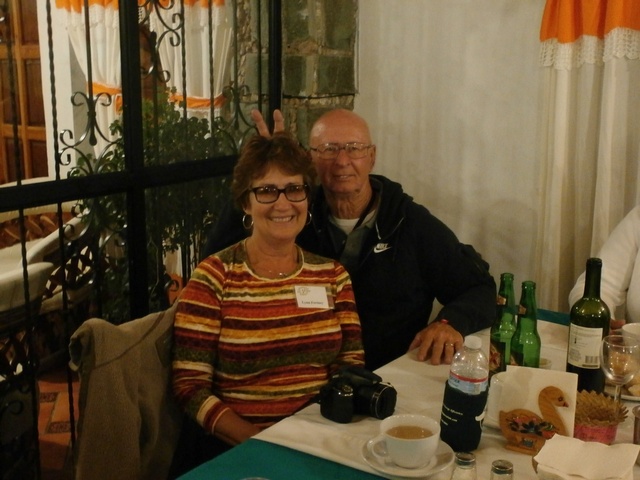 Lauran & Marian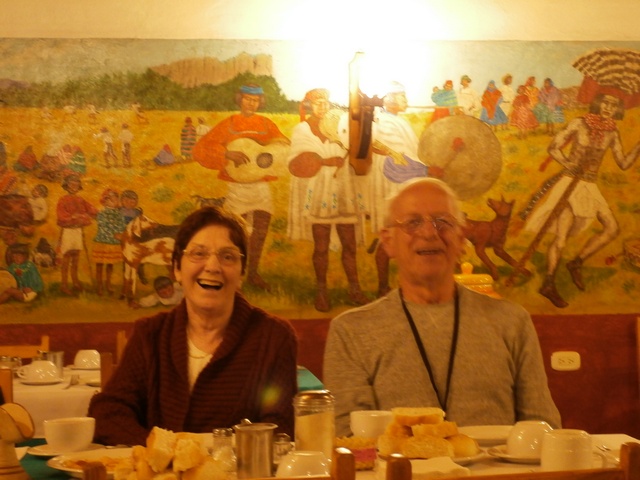 Marian is obviously enjoying herself.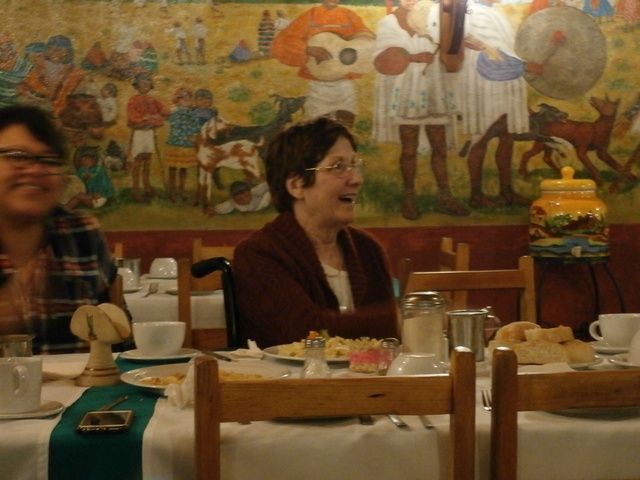 Wayne & Petra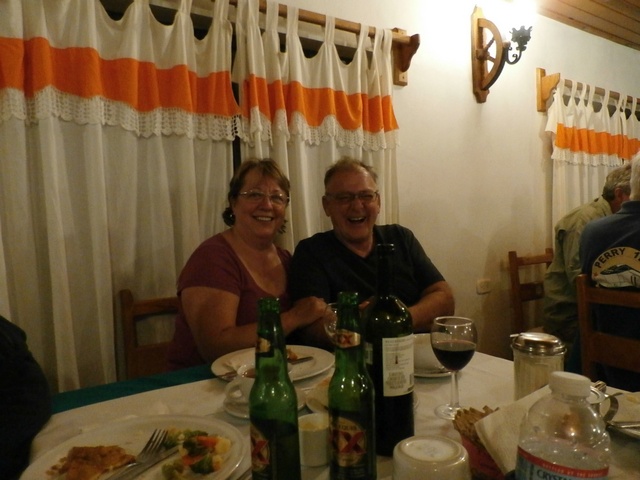 Wine & Cheese , note we now need coats, except Wayne who is Canadian. Wine & Cheese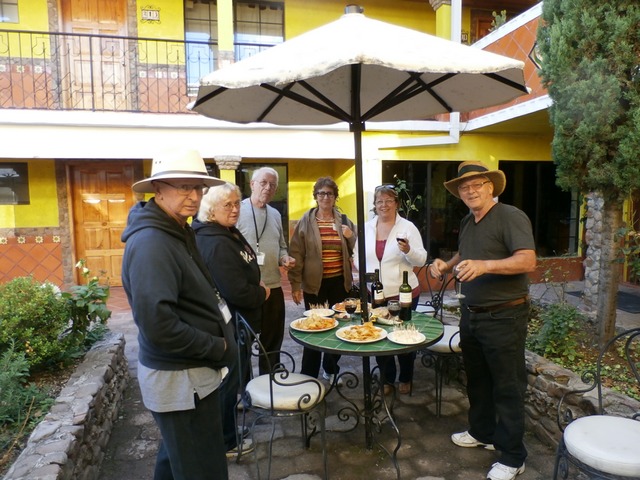 Oct 20, 2015
Today we did tours around Creel. Some slightly different locations from last year, but we still visited the Indian school where we dropped off some appreciated supplies. The school is actually quite well funded by the Rotary Club, not your usual dirt floor type 3rd world classrooms, but the people around here are very poor, so it all helps. We had a nice BBQ picnic in field and made the day for a very skinny, recently pregnant, dog with our leftovers. Once again my sister has obviously not been taking her raging hormone suppressants. At one point she wanted to stay in the bus with our handsome driver. I have to speak with Gabriel about hiring ones that resembles the Hunchback of Notre Dame, so I can get her mind off the caballeros and onto the customers.
Upon our return to the hotel, we had a great time socializing with the other tour group from Oaxaca. A bottle of Tequila didn't hurt. They are a very likeable group. 2 Americans and 3 Mexicans that have been friends for years. Found they are into doing trips into small villages to provide free Medical & Dental services and now have the Tarahumara Indians on their radar. The dinner tonight was not rubber chicken like last year on BBQ day. It was actually quite good. None of us were hungry, so we were rather hoping for a repeat, so we could have a good laugh. Alas Gabriel's talking to them must have got through. I realize some of our competitors may jump on our self criticism of quality of food, but we do the best we can with the location we are in, and I figure if I say every meal on this trip is 5 star quality, most people unless they are super naive, are likely to believe us. This way when I do rave about a meal, I am likely to be believed. At least, that is the theory. Tomorrow we are in the fancy hotel in Divisedero, so our opportunities for a memorable bad meal are next to nil. Jill & I spent an enjoyable evening socializing with Wayne & Petra.
Oct 21, 2015
We did tours around the canyon rim today and the cable car. We stopped on the rim where some Tarahumara Indians were selling stuff. Little kids running around right on the canyon rim. Yikes. We also stopped at the fertility rock pictured below. I won't repeat the comments my horny sister made. The zip line was closed due to wind. We stayed in the Hotel Mansion Tarahumara. This year I warned everyone to turn on the heat in their rooms before we went for dinner. Last year everybody complained of being cold. The stone walls in the rooms take along time to warm up. As usual the meals in this hotel were excellent.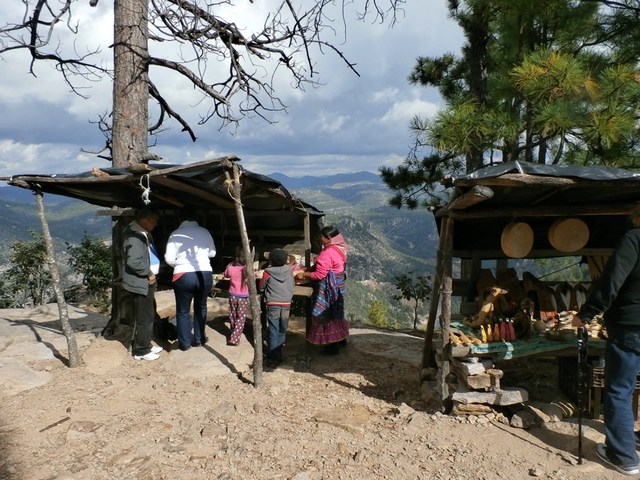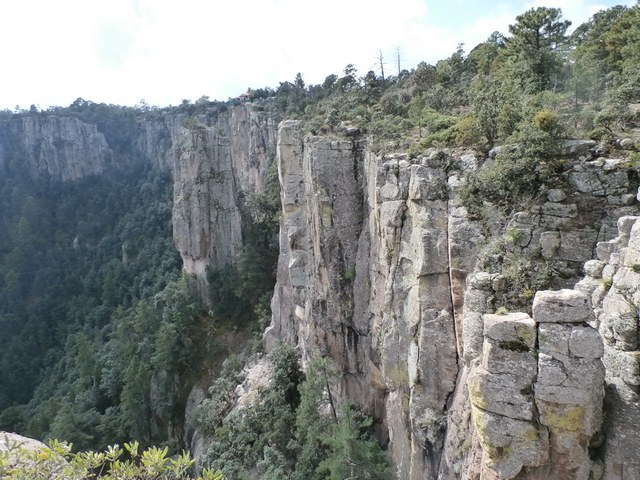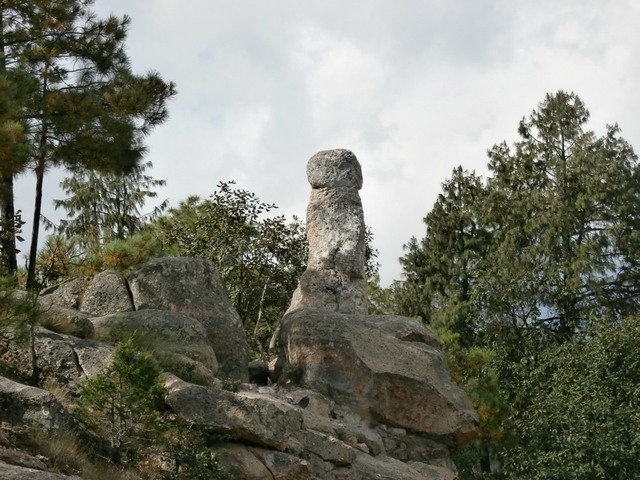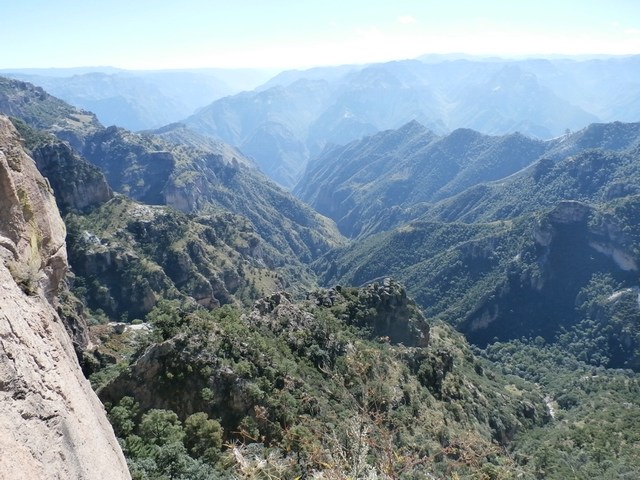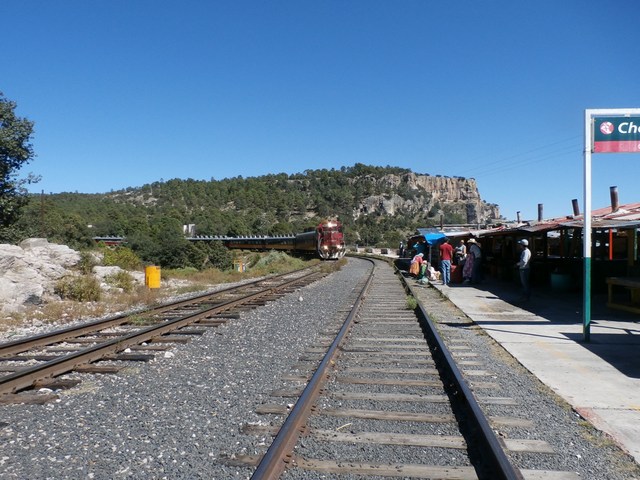 Oct 22, 2015
Today is the train ride back to El Fuerte. We are all concerned about Hurricane Patricia although is is predicted to go nowhere near us. These storms can suddenly change track, so we are prepared to hunker down in El Fuerte if it does. However, we are mainly concerned about how it will impact our route in the next few weeks.
Oct 23, 2015
Up at the crack of dawn for the nature cruise down the El Fuerte river. We managed to get Marian into the rubber raft. She could not do the walk to the Petroglyths, so Jill stayed with her. After, we visited the Mayo (not Maya) village of Compomos where we were offered local food & drink and witnessed some dancing.The sun is up and no signs of any storm, so we know the track is still well south of us.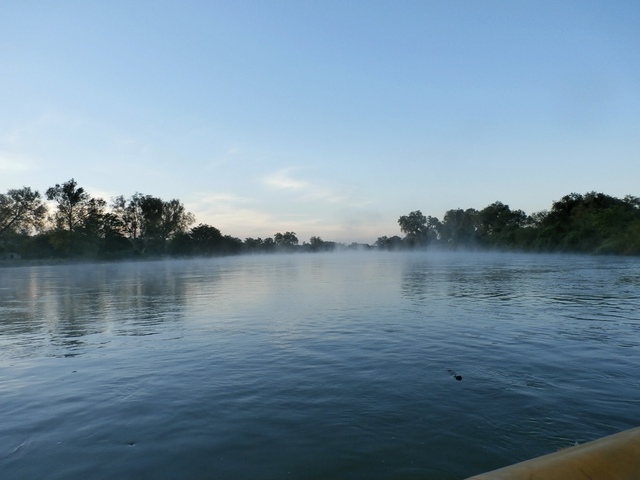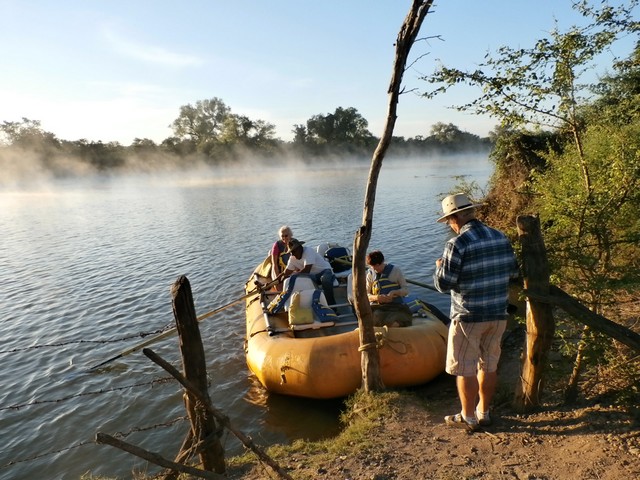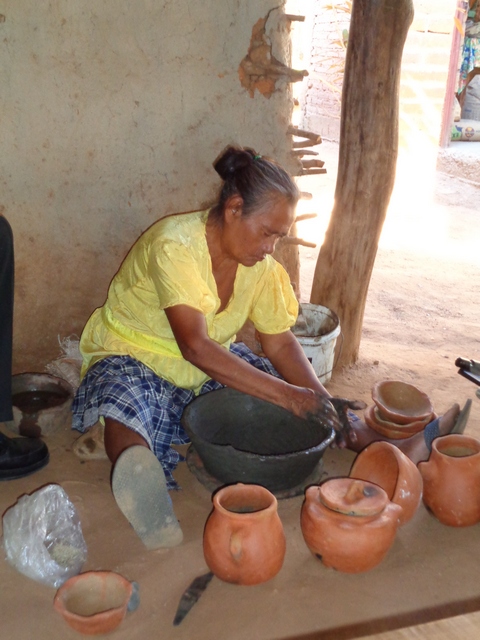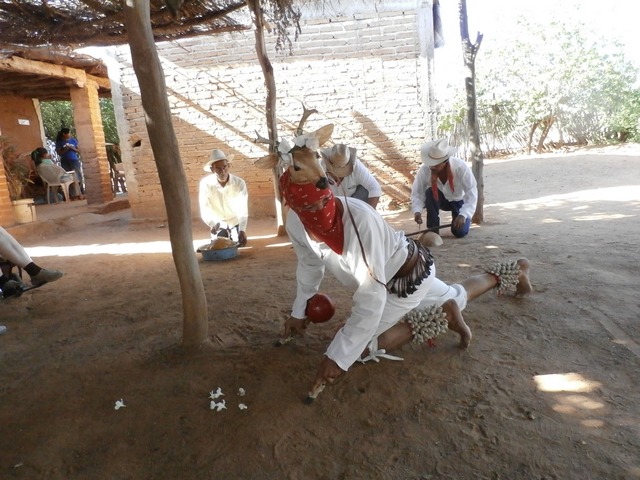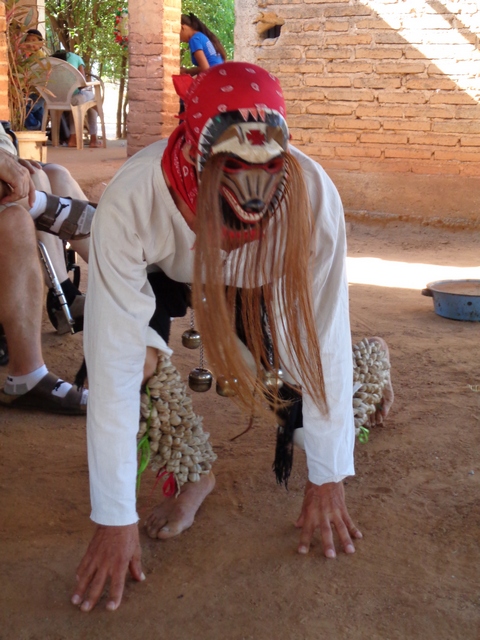 Oct 24th, 2015
Well, Patricia did a direct hit on Melaque, the place we are scheduled to stay for a week, about 3 weeks from now. We cannot get through to our contacts there, but reports say it took a hard hit, but both Puerto Vallarta & Manzanillo were spared. Depending on damage we may have to skip it and spend more time in the Puerto Vallarta area. Mind you, they clean things up quickly in this country, and if the path of destruction was as narrow as we are hearing, all the government help will be concentrated in a small area.
We had a rather long trip to Mazatlan today, sunny all the way. We have a week here to do little more than relax.
Oct 25, 2015
Chill out day
Oct 26, 2015
Another chill out day. Lauran showed up at the park with a cop in tow. He has an electric bike that looks like a scooter, unlicensed and unregistered. I was afraid this would happen. Part of the problem was he also had no helmet and does not have one with him. (note to self, inform customers that Mexico does have helmet laws).The park maintenance guy managed to smooth the waters, but it is going to happen again. We told him to keep the pedals on it and pedal if he sees a cop. We spend part of the day looking for an adult helmet, to no avail, as well as running around looking for an autozone for Frank and a watch battery for Wayne. We all went out to a nice (expensive) seafood restaurant, except for Petra who is sick. She took a Cipro so hopefully she will be better by morning.
Oct 27th, 2015
Well we headed out for the country tour, sans Petra, who is still a bit sick. As usual Juan Carlos gave an excellent tour. We visited the stables for the dancing horses, which was an addition since last year, and had the usual excellent meal in El Quelite, plus a cock fight (no spurs). By the time we got back, Petra was fine.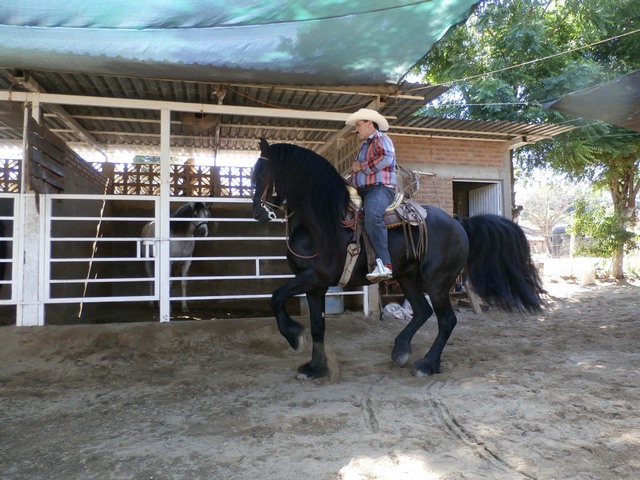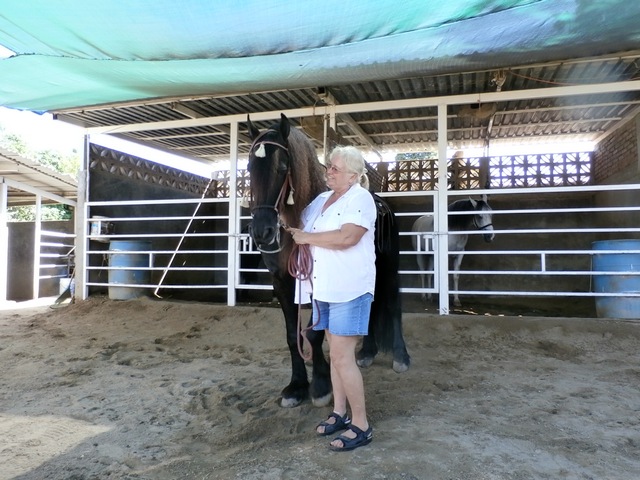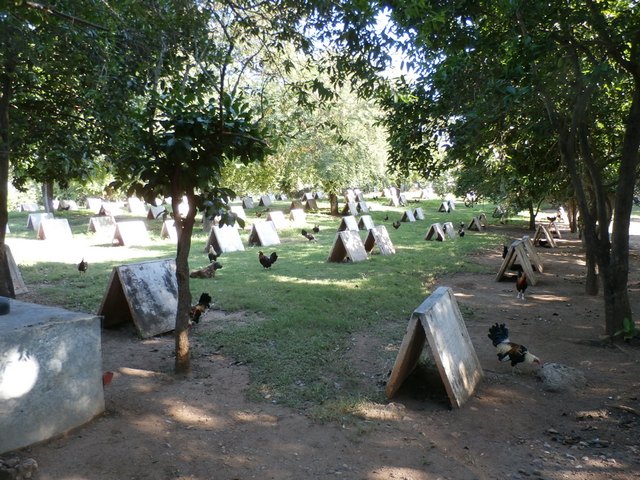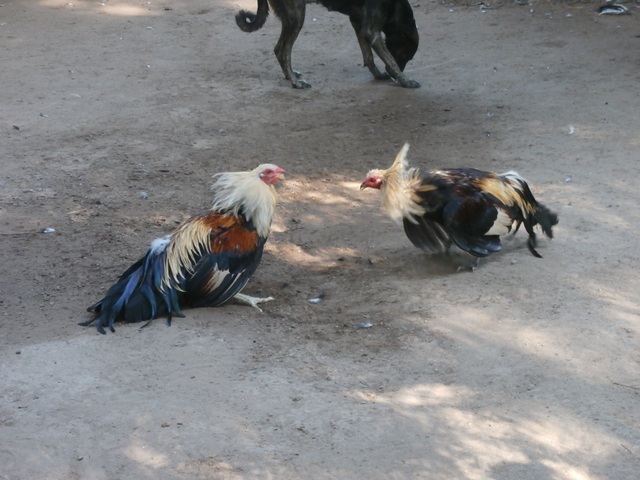 Oct 28th, 2015
Today Frank, myself & Wayne hired a boat to go fishing. $75 apiece, not bad. We filled a cooler with White & Red Snapper, Sea Bass, & Perch by noon. In the evening we headed out for the El Cid dinner show which was in a smaller venue than last year due to it being earlier in the evening. I think Jill was relieved there was less Mariachi. After a few years in Mexico, one gets Mariachied out. The food & booze flowed profusely. The good news is that I have heard road repairs after Patricia, further south are proceeding well.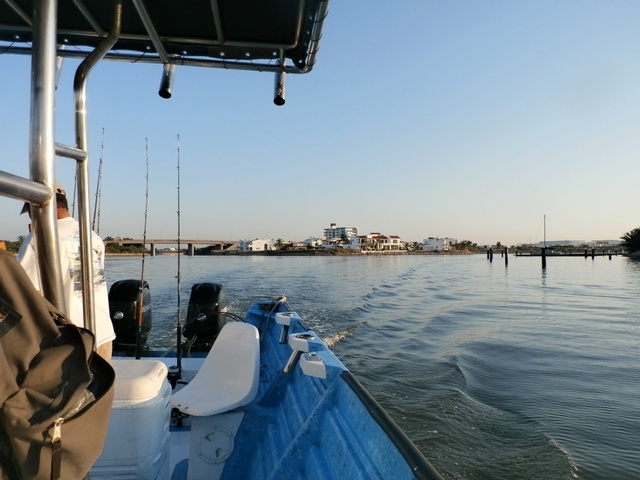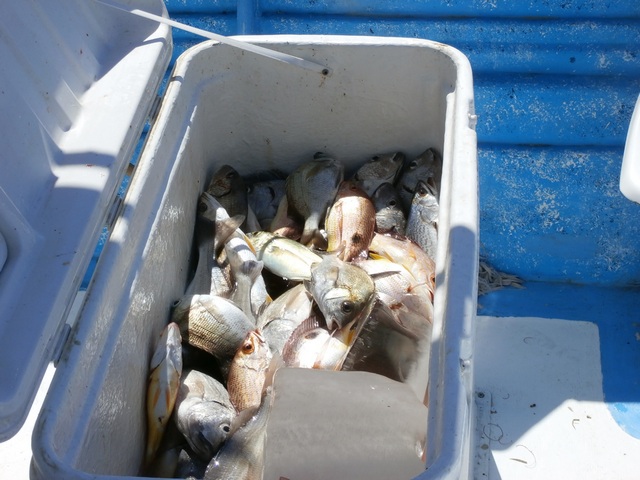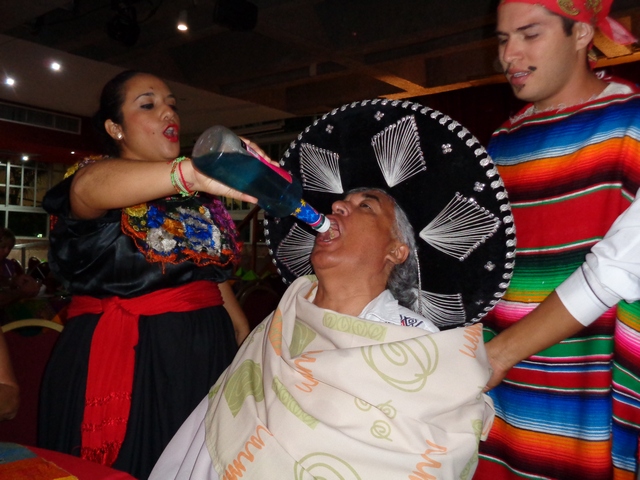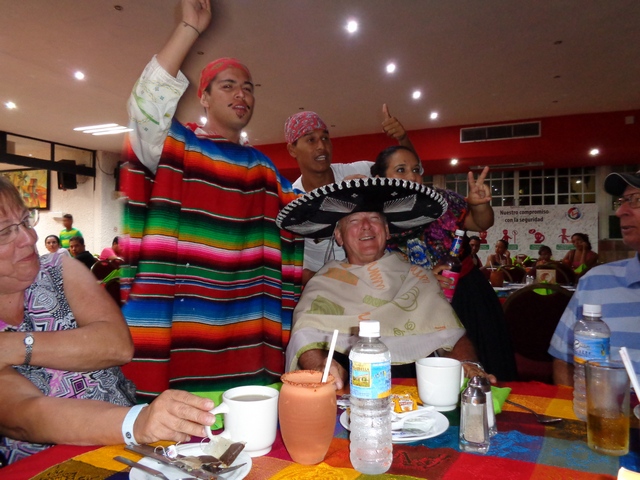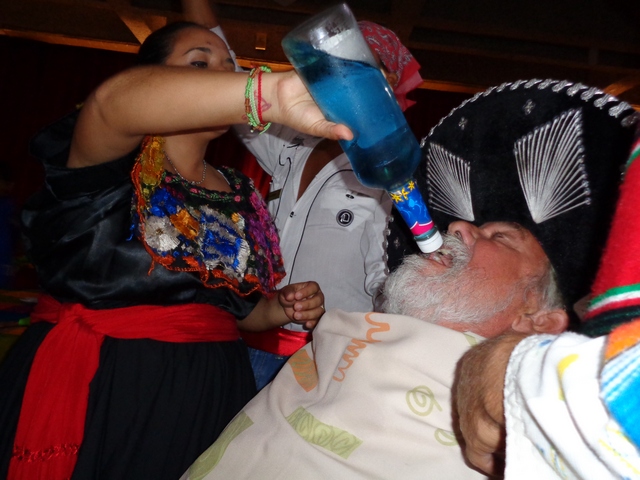 Oct 29th, 2015
First cloudy day we have seen, plus a few showers. Everybody has headed out for the Mazatlan City tour. I have decided to skip this one. I need a day off.
Oct 30th, 2015
Had some heavy rain yesterday. Today is mixed sun & cloud, a chill out day before we leave for Durango tomorrow.
Oct 31st, 2015
Well, the weather is good this morning, mixed cloud & sun so at least the trip up to Durango will be scenic. We made an early departure at 8:30 AM, mainly because there is a time change today which gives us an hour less, sort of. The highway up to Durango is in quite poor shape considering it is only 2 years old. 2 El Nino seasons has done a number on it. They were working in several of the tunnels, including one where a huge hunk of the ceiling had come down. A large rock had punched a hole in a spot where it was exposed to the outside during a heavy storm. I now know why they close the road during heavy rains. I guess it will take a few years for them to determine where side hills need shoring up. They were putting up barriers & steel netting over several. At the second toll booth which is the most expensive, the road was blocked by Camposinos protesting that the government had not properly compensated them for their land. We gave a donation which was still far less than we would have had to pay for the toll. We stopped again on the Baluarte bridge (one of the worlds highest). It's quite freaky to look down through the drainage holes and see the river 2000 feet below. This is also where we changed over Green Angel Escorts (see photos). There were also some suicidal Mexicans clambering over the safety barrier to have their photos taken against the bridge cables. I was ready to count how long it took one to hit the bottom so I could better calculate the height, (using the acceleration and terminal velocity equations I learned in school) but they did not co-operate. They would have had to hit the river dead on so I could see the splash from that height. The fact they were all quite plump would have helped.
A bit of an embarrassing moment when we hit Durango. I accidentally put the page from last Springs road log into the book. At that time, we used a different hotel parking lot that did not work out. This meant I took the wrong exit off the ring road, and we had to do some driving around to get back onto the correct one. Hopefully my only boo-boo this trip. We all fit into the Motel Aragon Parking lot OK and sat around my gas fire. Due to the altitude, the weather here is exactly same as Vancouver yesterday, 52 degrees F. in the eve and going down to 39 F overnight. The parking lot started to fill around 9 PM, mainly with single men. Then an inordinate number of Taxis started to come in & out. The room maids here all seem to wear 6 inch stilettos & mini-skirts. It must be pretty hard to vacuum & clean toilets in those. My sister refers to them as Time Share sales ladies for some reason, but she is much more worldly than I am. Regardless, we want to locate another spot for the larger Spring caravan. What is a parking lot that can fit 15 rigs in the day, shrinks considerably at night. Oddly enough, most of the room customers only seem to need about 4 hours sleep as they re-rent the rooms after that. Strange traditions in this country, or maybe its because Mexicans have afternoon siesta's and need little sleep at night.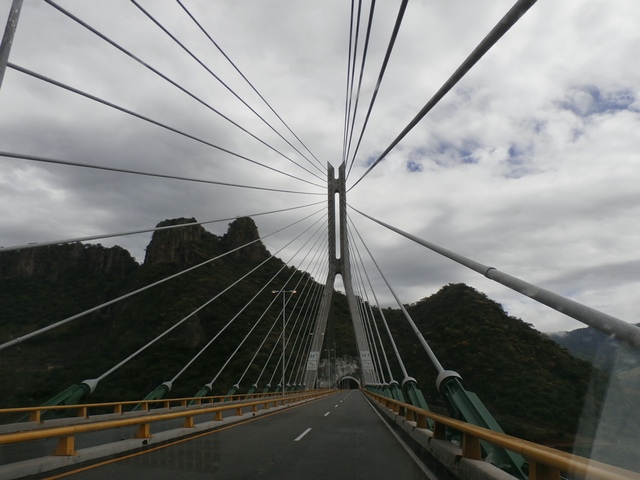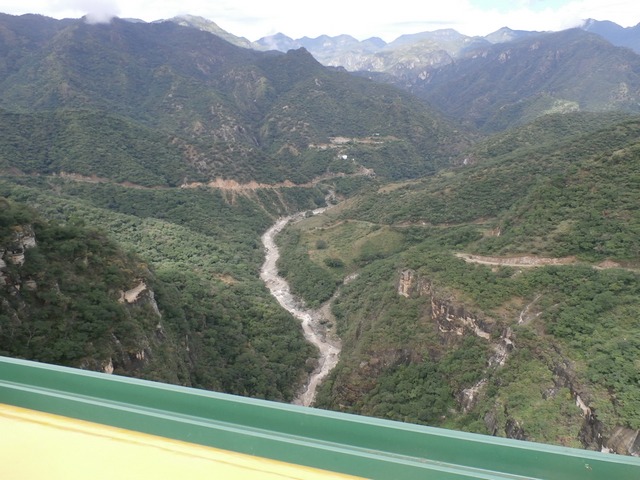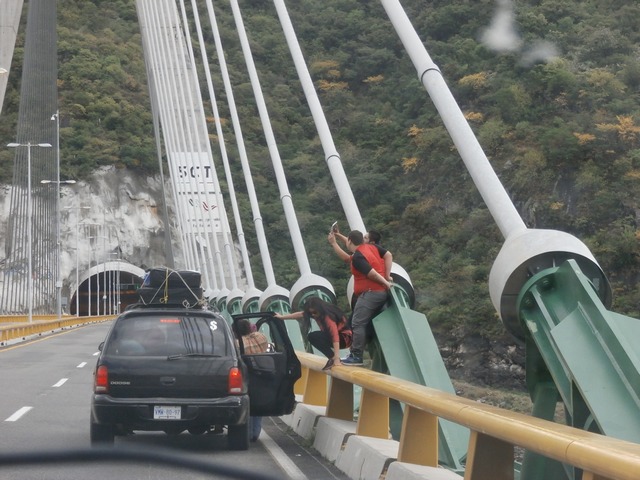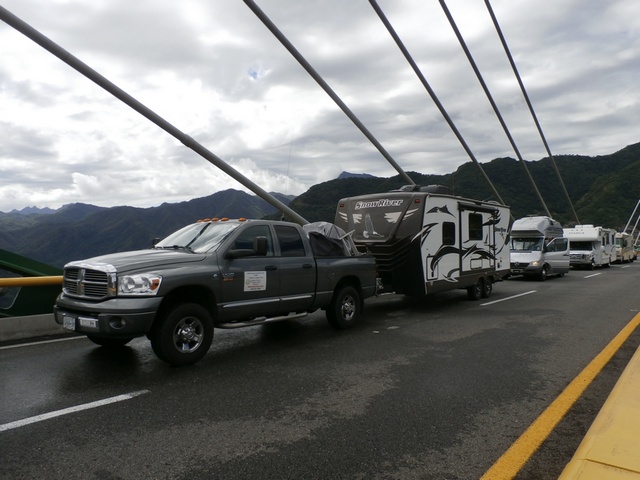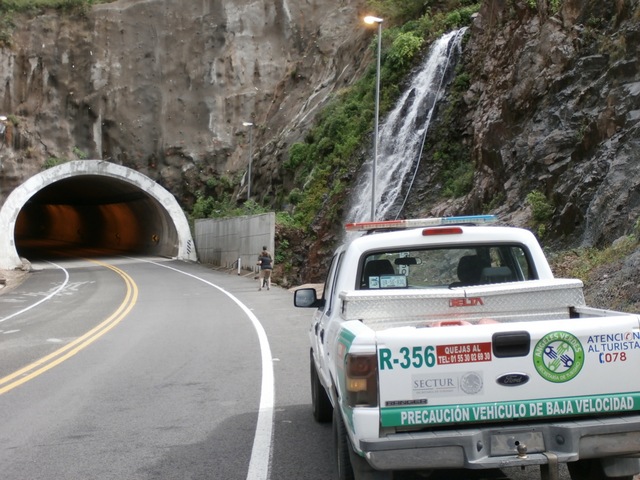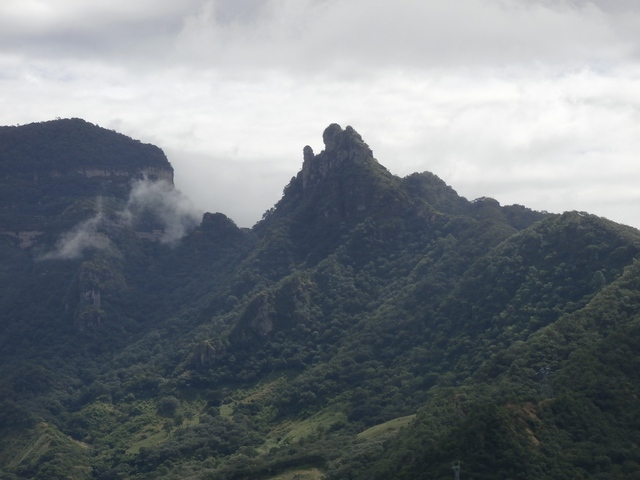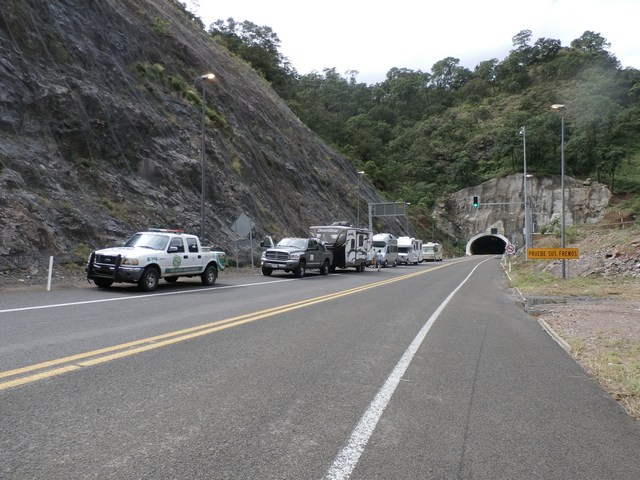 Nov 1, 2015
A gorgeous day today for our city tour, not a cloud in the sky. Quite a contrast with last Fall when it rained torrentially and we had to deal with 2 soaked, half drowned German Shepard's when we got back. Once again we are here around the Day of the Dead, just before it this time, instead of several days after, and the usual morbid displays are all set up. It never ceases to amaze me how you can drive one day south of the US and be in a totally different culture. The most famous dead person here is Dolores Del Rio, the Hollywood actress who was born here. You can see her photo (pre-dead) in one of the pictures below. We did a city tour, then headed to the carnivore fest at the same Brazilian restaurant we went to last year. 21 meats and 18 salads, many of which, coincidentally also contain meat. After lunch we piled into an old bus for a ride out to the old western Hollywood sets out of town where they put on a show similar to that in Tombstone, Arizona. The hanging was very realistic, in fact for a while I was not sure they were not simply using captured Drug Cartel members to make it appear more realistic, but unfortunately it turned out to be faked. After this we stopped at the local cemetery, where there was a jolly celebration happening complete with musicians and hundreds of people, both alive & dead all having a great time. Lynn had her picture taken between 2 armed police with AK-47's. She was thrilled. One thing (among many) I really like about Lynn is that when she is enjoying herself you really know it.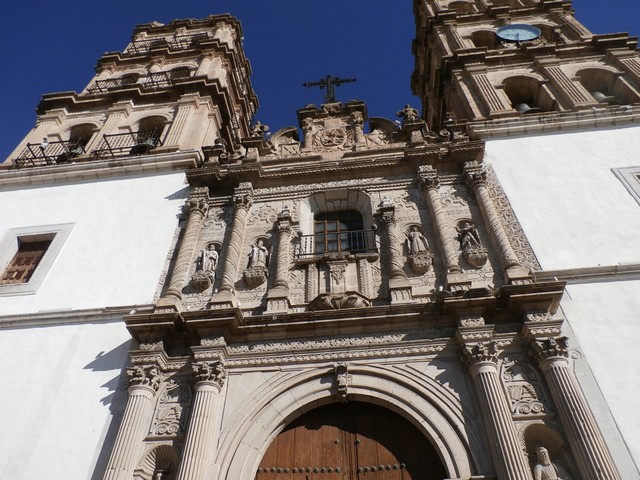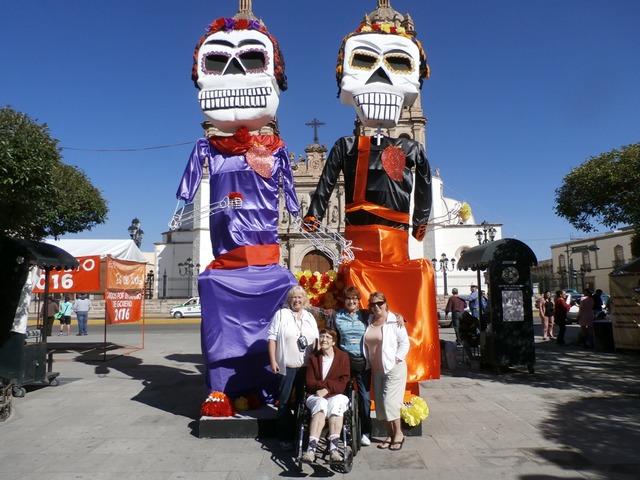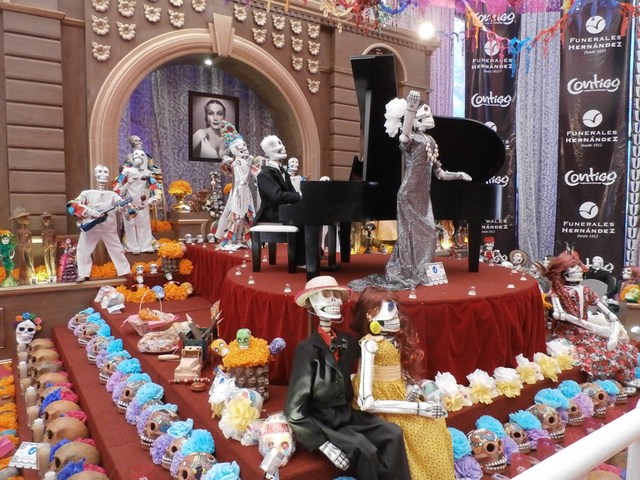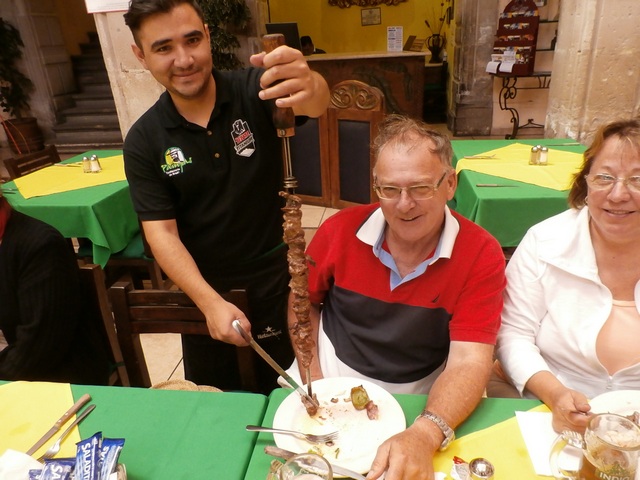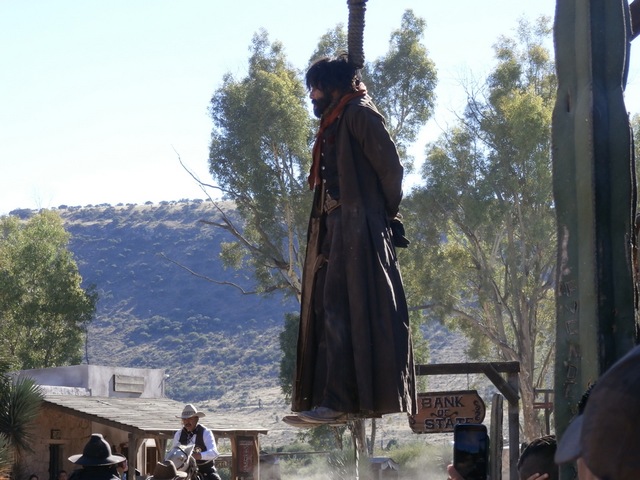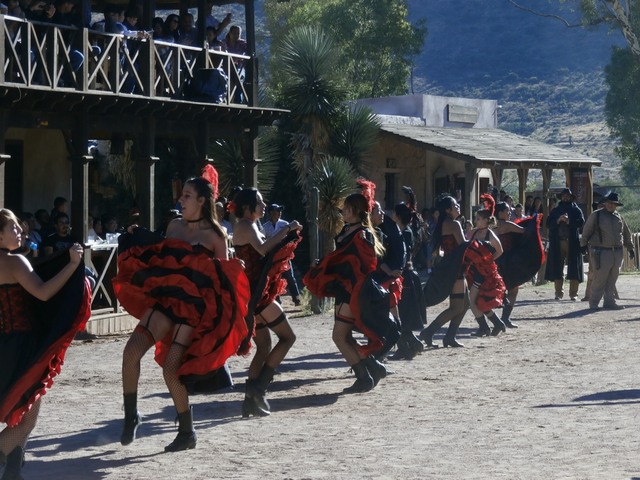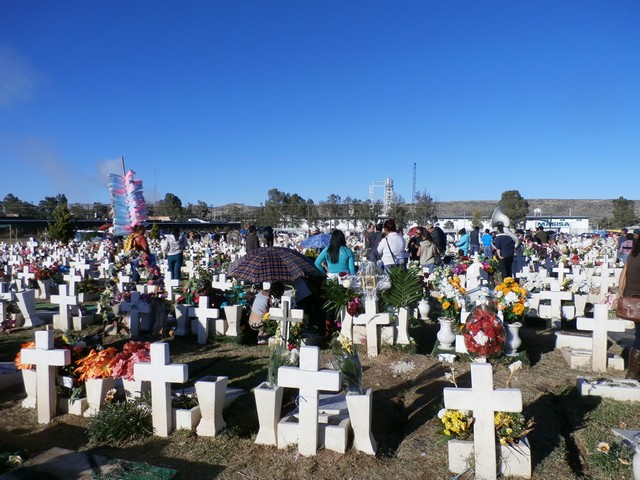 I did not get permission form these 2 officers to publish their images on line, so I have distorted their faces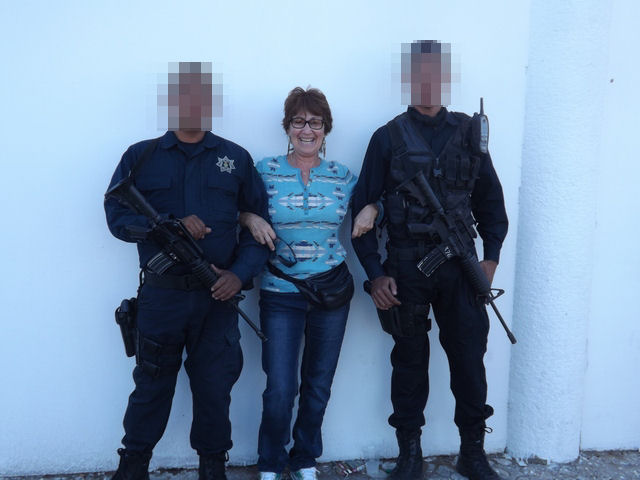 Nov 2, 2015
A chill out day today. Gabriel, Wayne & Petra & I went on an exploring trip to find a better place to use in Durango for future caravans. We found one. A Hot Springs complex about 5 miles out of town. They are going to prepare an area for us. Very pleasant; grass, hot pools and we will have access to them. A bit pricier, but what the heck.
Nov 3, 2015
Arrived in Zacetecas. We just found out they are opening the monarch reserve late again this year. This time probably due to Hurricane Patricia. So once again we are going to have to substitute some other tours. This is always a risk with the Fall Caravan and we do warn people it's a possibility. I have not even seen them myself.
It as a bit of a rainy drive today, but its supposed to get better tomorrow.
Nov 4, 2015
Bright & sunny today for our city tour of Zacetecas. We first visited a 5 star Hotel which was created from the former Bull Ring. Fortunately the cable car was not closed for maintenance like last year and we all enjoyed the tour of the El Eden Mine and the open air bus tour. Zacetecas is so clean you could eat off its streets and as I have mentioned on previous trips it reminds me a lot of Barcelona. The city is a UNESCO World Heritage Site. Our tour guide, Rosaleo, is great and is a real chick magnet. The guys are all hoping for lessons later.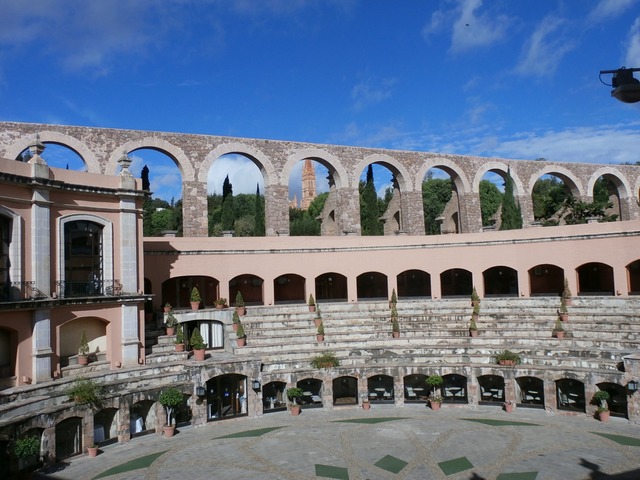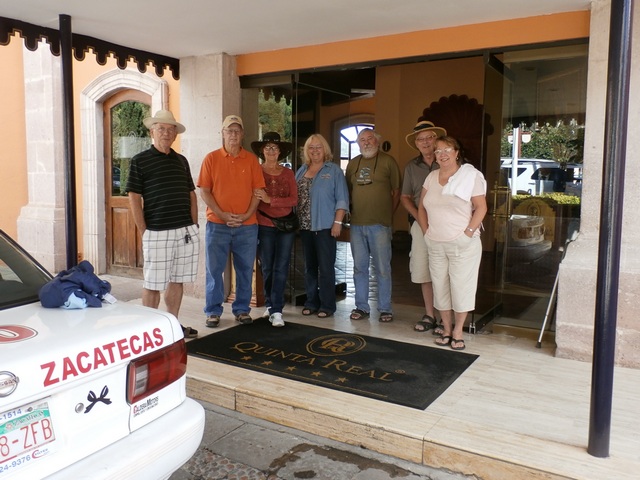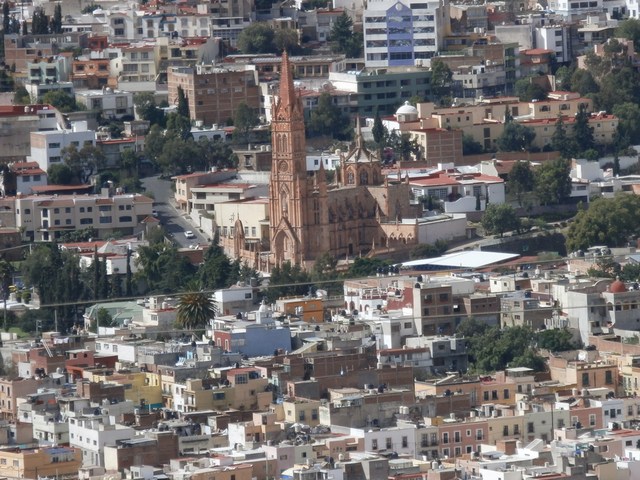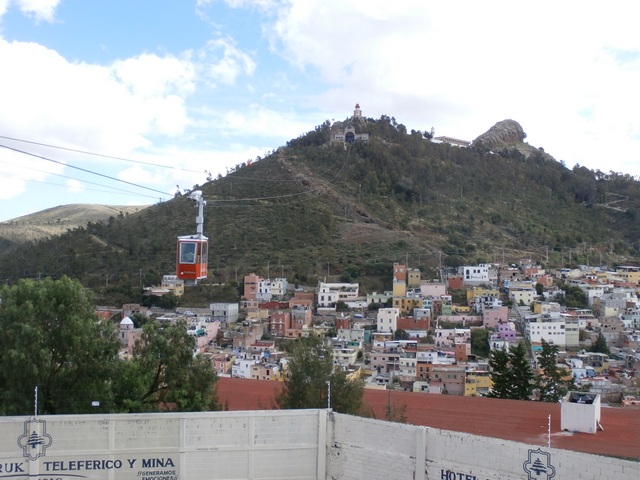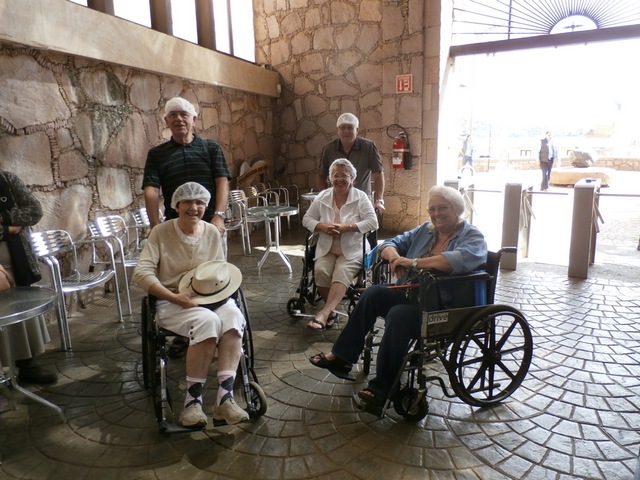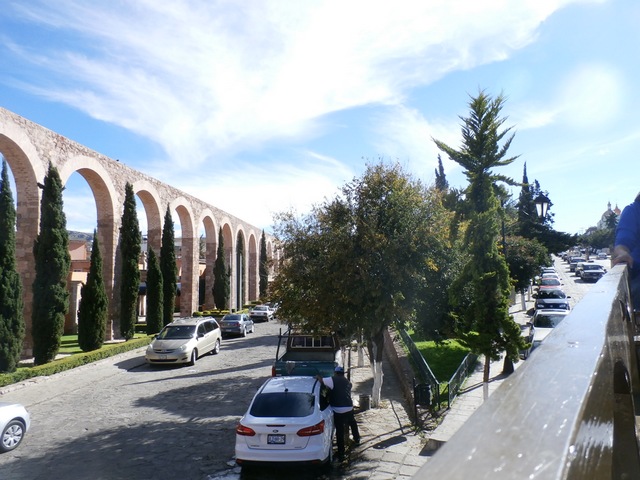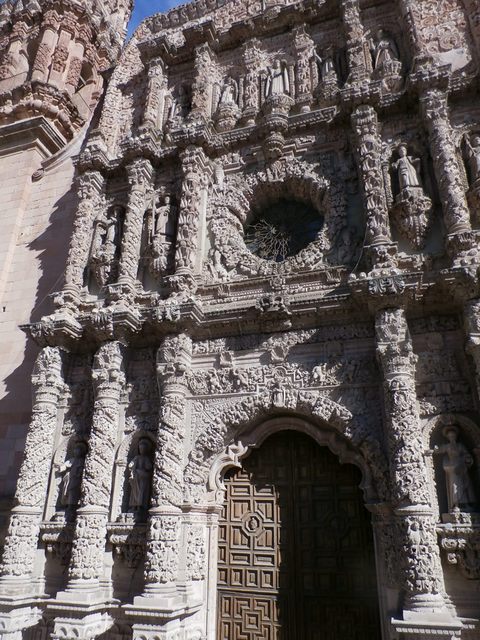 Nov 5th, 2015
Another bright sunny day, and most of us opted for the tour to the Archaeological site at La Quemada. This is an optional tour as it is not suited to anyone with mobility problems. I had never been there myself and I was impressed. They are very large and they are not sure who built them but it was probably the Toltecs or Teatihuacan culture.
After that we made a visit to the Pueblo Magico of Jerez, famous for its ice cream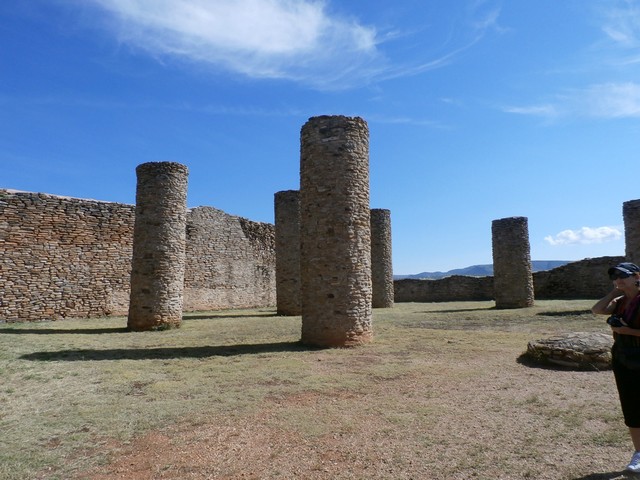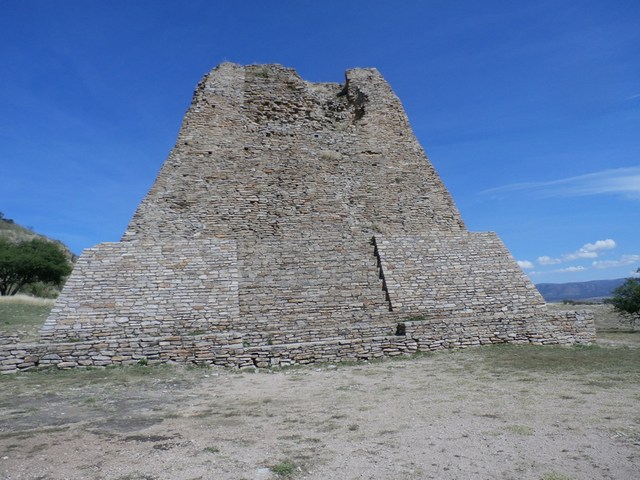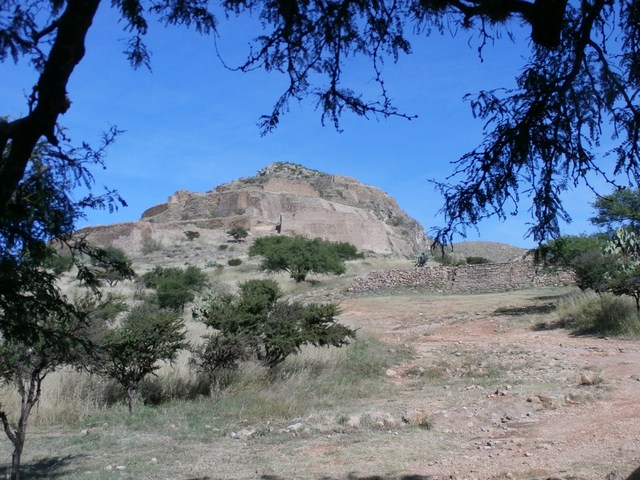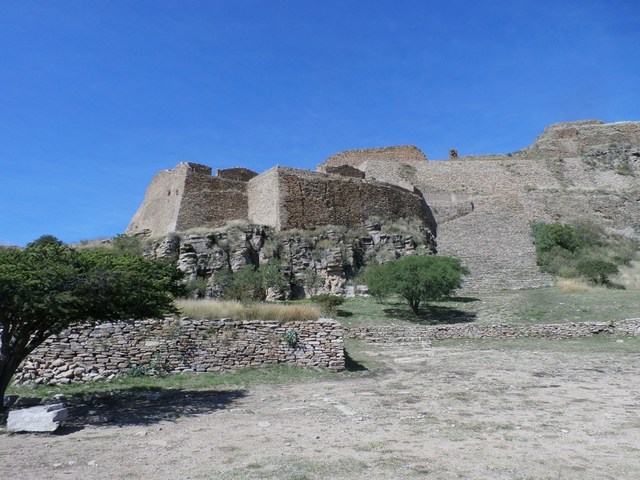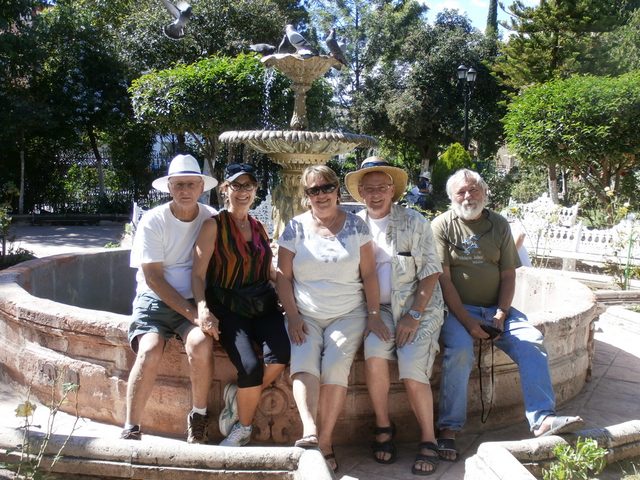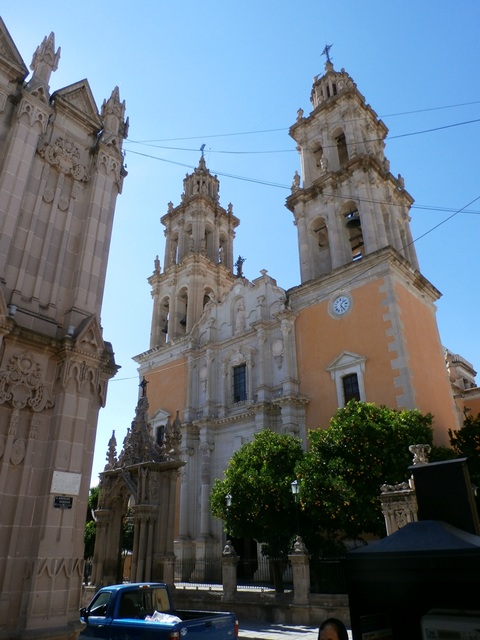 Nov 6th, 2015
We drove to Guanajuato today. A bit of a problem when one of our group took an exit he should not of and got lost. Took an hour to resolve that but we all managed to re-group and make it here OK. Weather is good. 2 rigs here from Vernon, BC. They are going to join us for our tour tomorrow.
Nov 7th, 2015
Well here we are in Guanajuato, my favorite Mexican City. The name is Indian, & means Hills of Frogs. I could live here, easy. The city was founded on Gold & Silver. The most distinguishing feature of this city is its underground roadways which criss cross the downtown. They look like mine shafts, but are actually old drainage tunnels. The downtown streets remind me a lot of some Spanish cities like Cordoba. The city has a low crime rate and it is quite safe to walk around, even at night. I finally talked Gabriel into including a tour of the mummy museum to our schedule. This place is so cool. A few customers opt out, but those who do not experience something you won't experience anywhere else. The Museum has more than 100 cadavers on display, including murder victims, a Spanish Inquisition victim in an iron maiden, people who were buried alive, children & fetuses. Many are victims of a cholera outbreak in 1833. There are even early photos of mothers holding their dead babies and the actual baby mummified underneath. This museum is definitely a bucket list item. We did it just before lunch. You can buy sugar treats shaped liked mummies at the stalls outside. Lots of photos below. Enjoy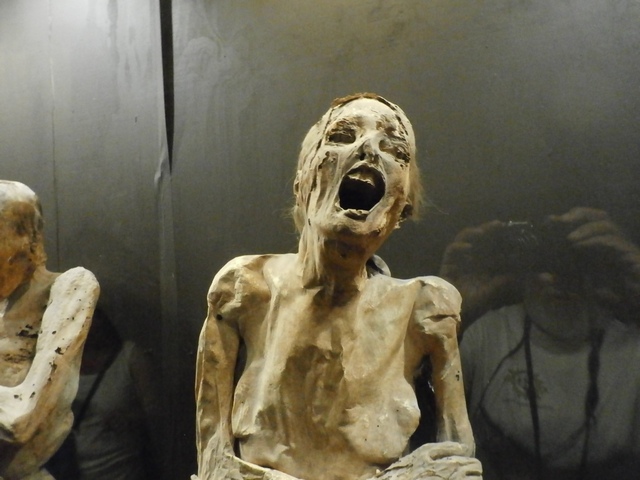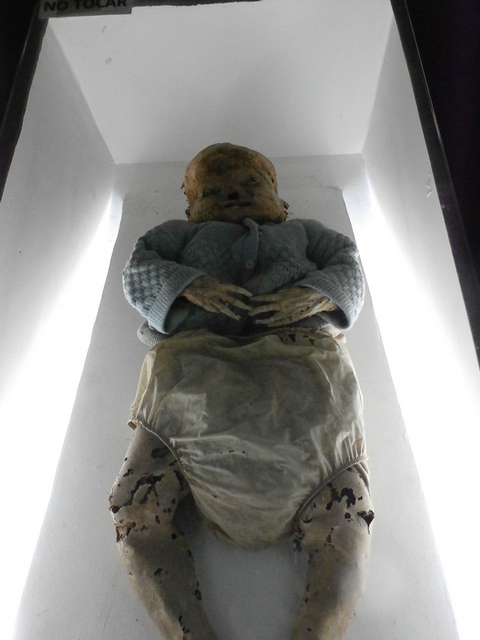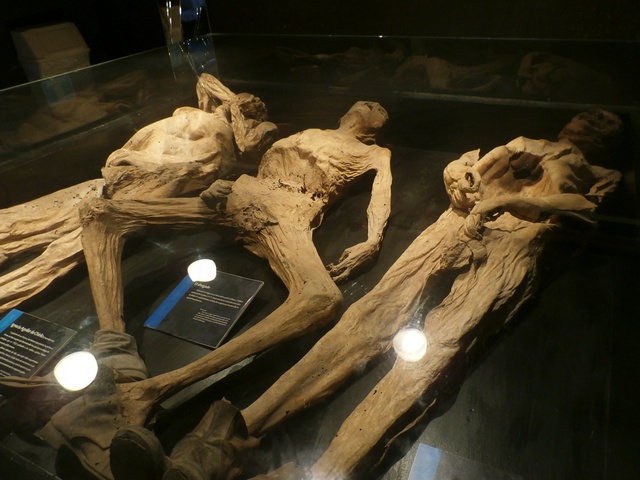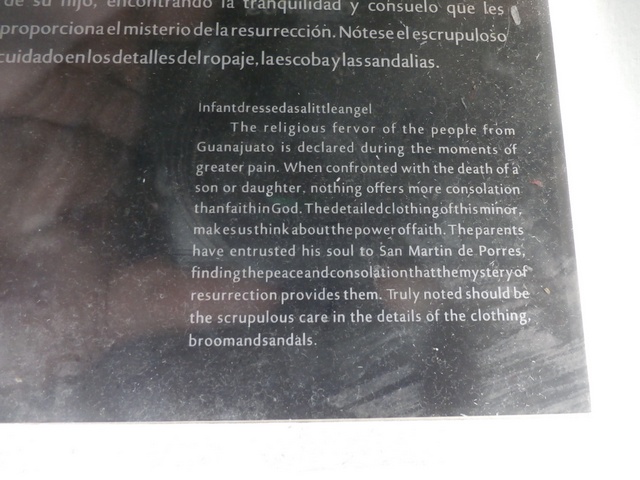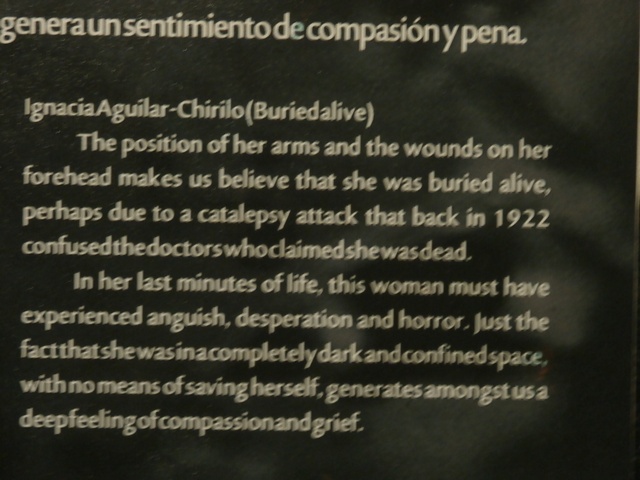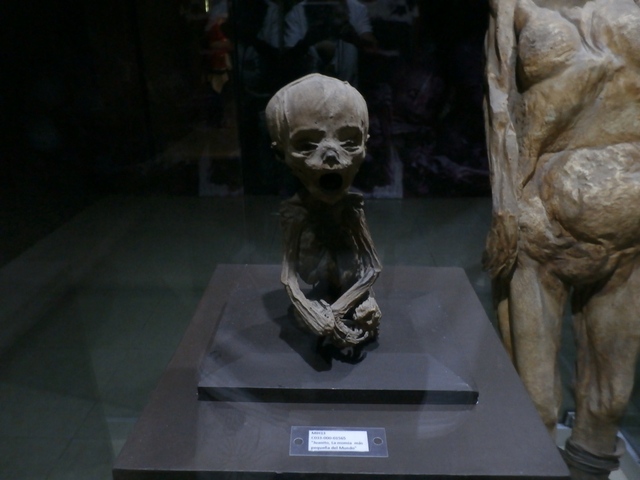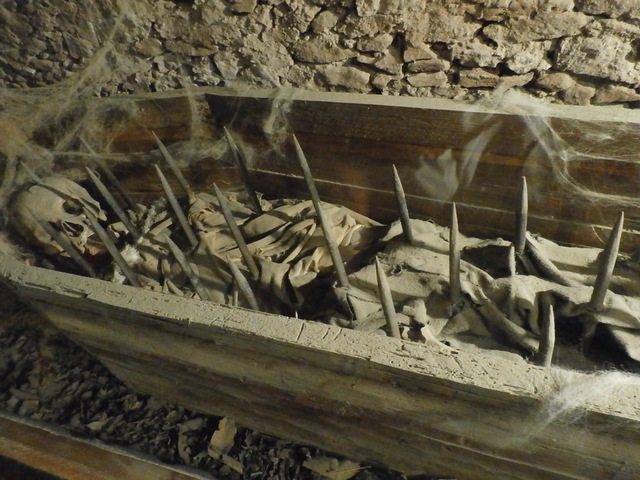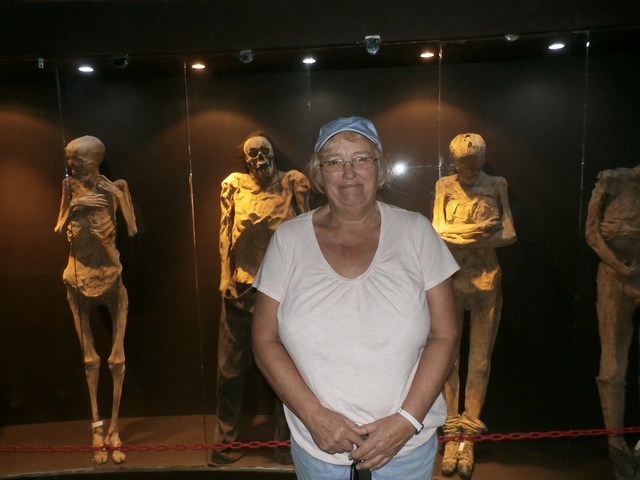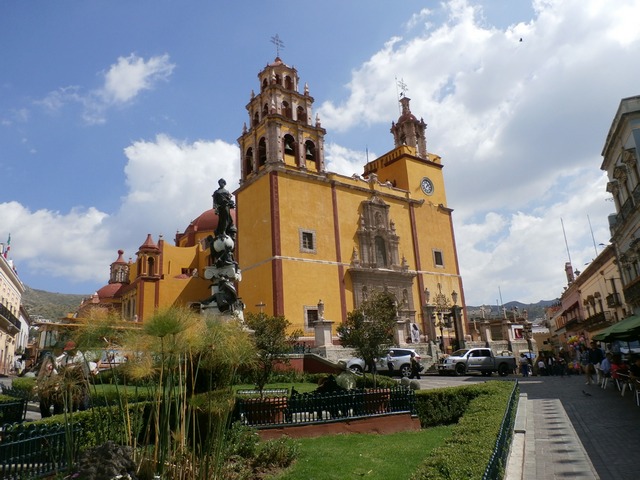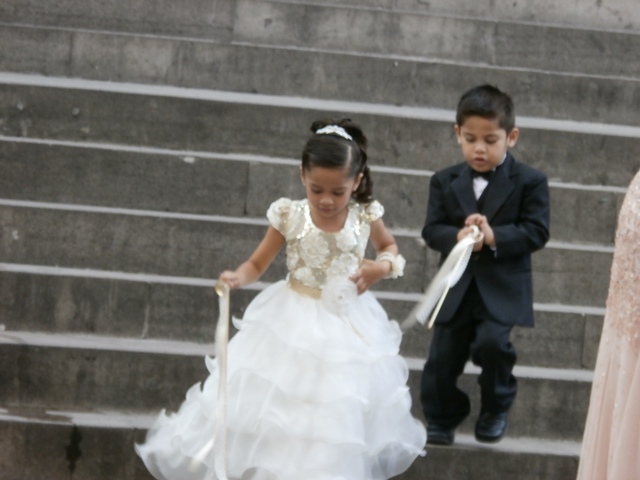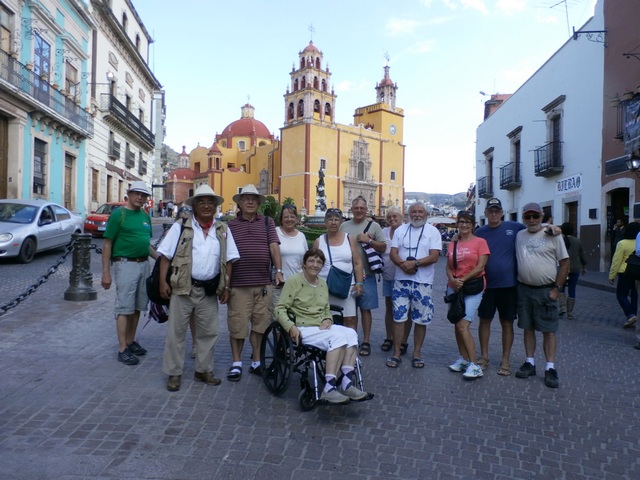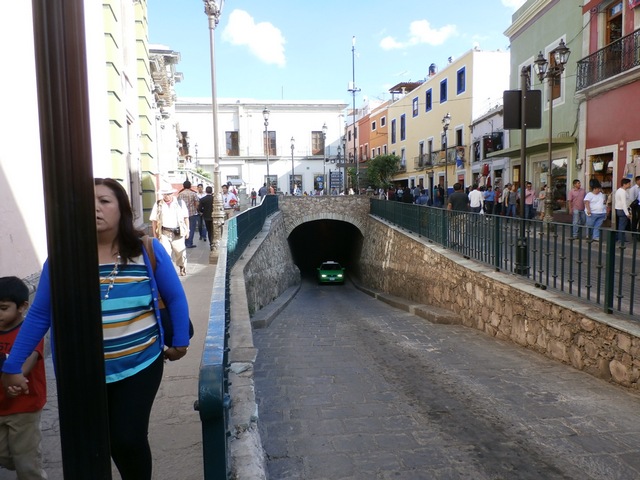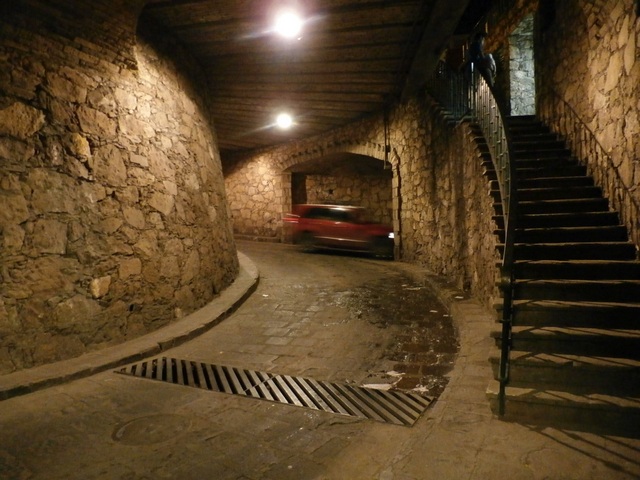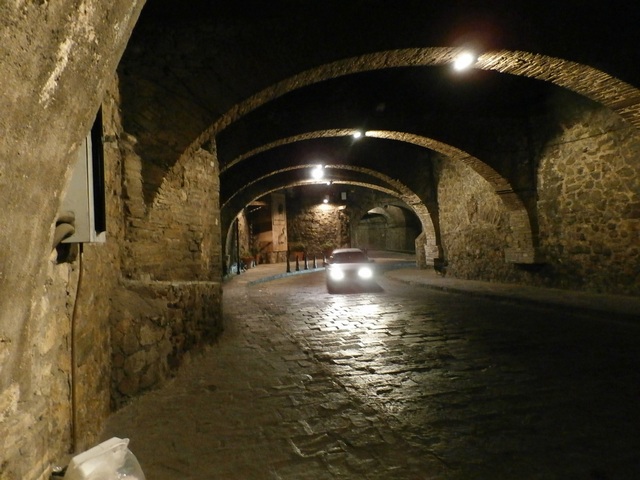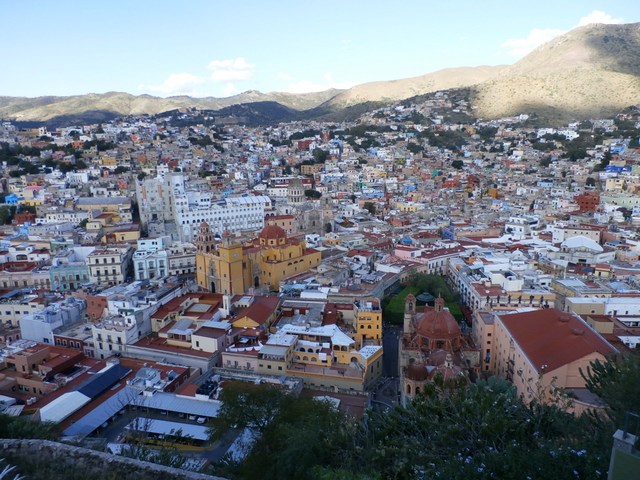 After a 3 hour break back at the RV Park, we were picked up for our evening soiree around the back alleys of Guanajuato with Estudiante Minstrels. They are music students at the University. This is a tradition that started in Spain in the 13th century. The practice was introduced to Guanajuato in the mid 50's. The city is a maze of back alleys & steps and we wound our way through them for over an hour, being serenaded and occasionally encountering another group. They are excellent musicians & singers and not the usual Mariachi.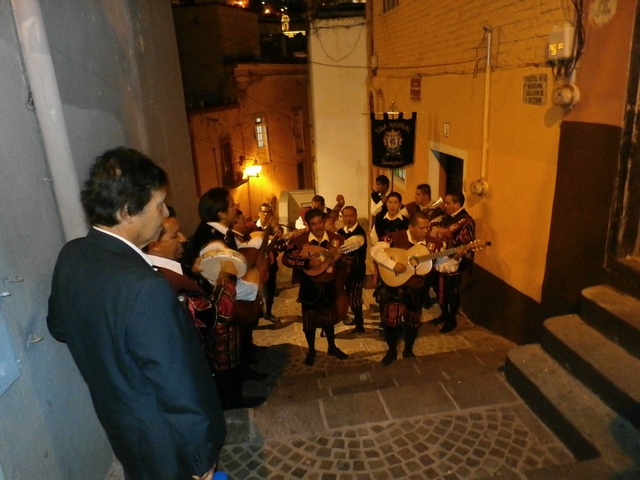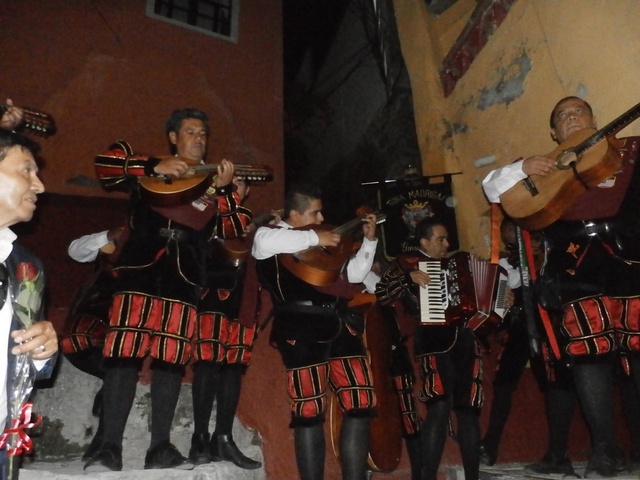 Nov 8, 2015
Relax day
Nov 9th, 2015
Today we took a tour to Dolores Hidalgo and San Miguel Allende. The latter is full of Gringos, but the city is nice and has a very distinct cathedral. We had a great lunch there.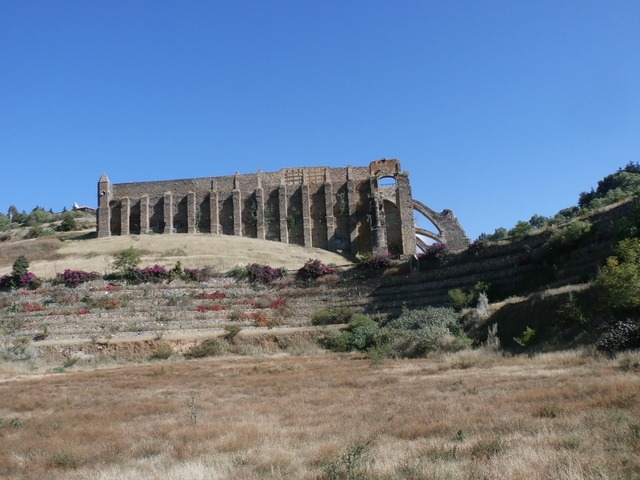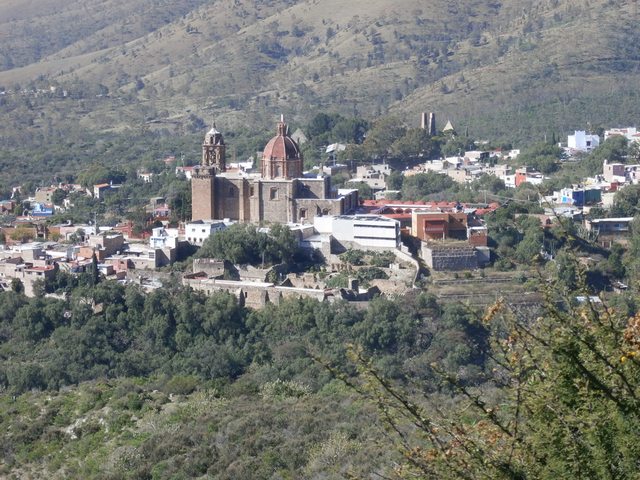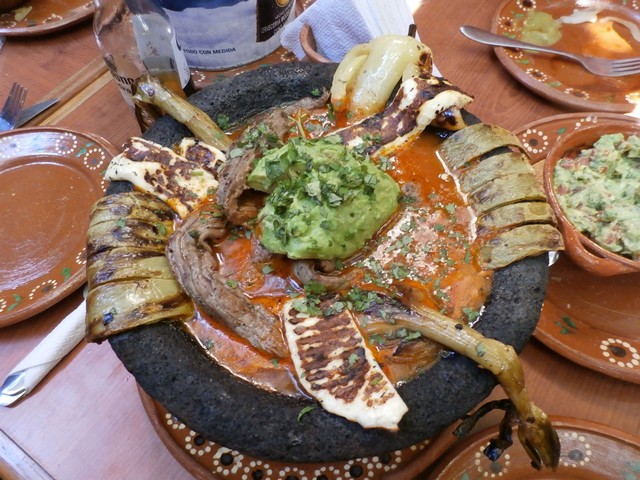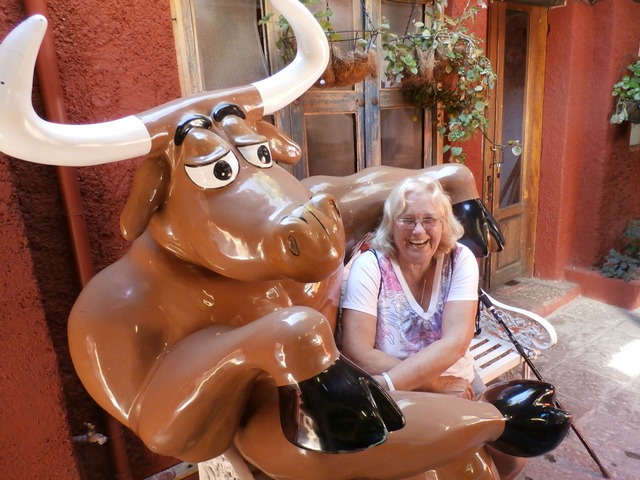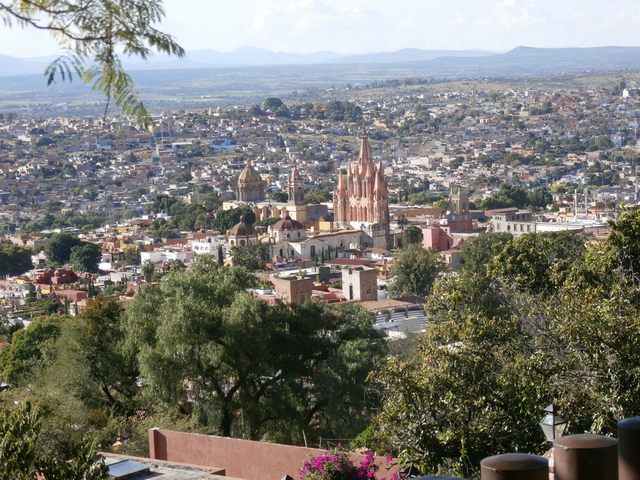 Nov 10th, 2015
Today we drove to Cuitzeo. This park is run by a guy named Arturo, very nice man. On the way, I accidentally discovered a new highway that is not even in my GPS or on my map, it just opened. We took it and it cut a lot of time off our trip. Time to update the Spring road log. Arturo's park which is very modern, is none the less a challenge to get into. We had to travel through a narrow town and lift power lines with my homemade wire lifter. There is then a very steep, albeit short, climb into the park. He has doubled the width of the road since last year so you can get a run at the hill. However, it is still a challenge for gas Class A's and would be for any gas vehicle towing a trailer or 5th wheel. We are hoping that by Spring he has another access route ready. Anyway we all made it up by going one at a time. We are having dinner with some local politicians tomorrow, so he hopes that will convince them to improve the other possible access. The view, WiFi, and faculties up here are great.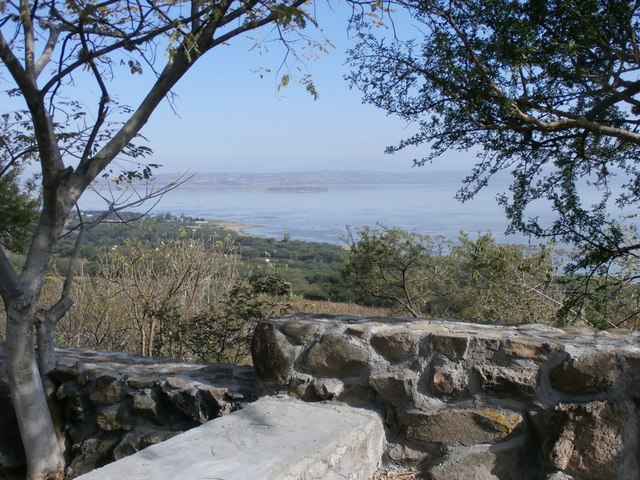 Nov 11, 2015
Today Arturo arranged a tour of Cuitzeo and a spa day. I have never a massage before so it was a new experience. Sort of like winning the reward challenge on Survivor.
This eve a bunch of tourism officials showed up from Cuitzeo along with 4 cops. We all had dinner and a great time. Especially my over-sexed sister who loves uniforms.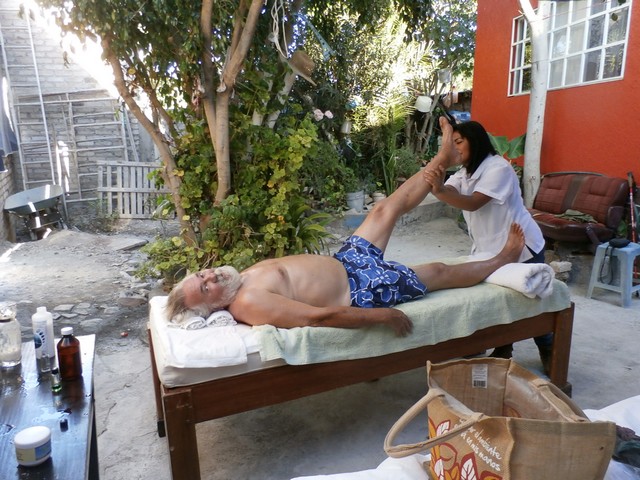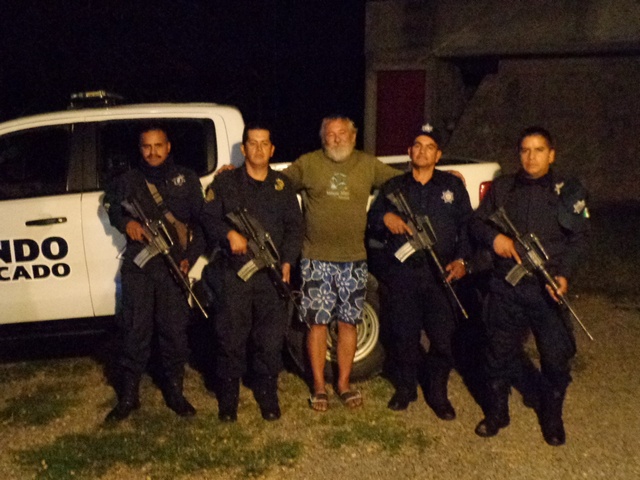 Jill loves guys in uniform.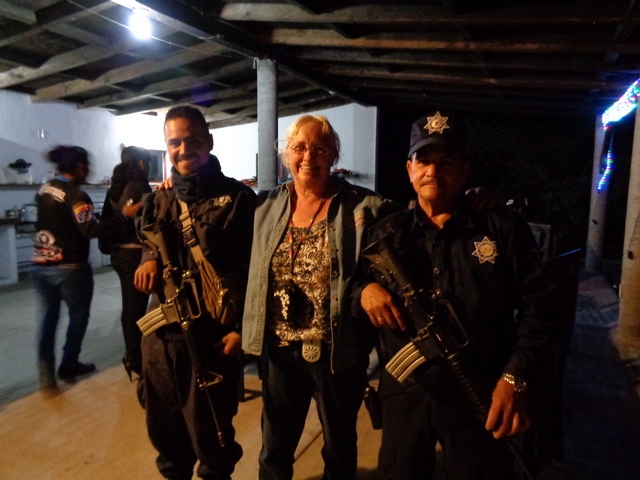 Nov 12, 2015
Today we drove to Patzcuaro. Thank God they have now finished the work on the Morelia periferico so it was an easy trip. We made grocery stop on the way at the Sorianas in Patzcuaro, partially to do a grocery shopping and eat at the Chinese restaurant there. We met an American couple, Dave & Chad who are retired and now live in Patzcuaro and invited them to the campground for a beer tomorrow night. We are now at Rancho Mesa, and RV park has a magnificent view over the lake. Dave was a hairdresser who has done the hair for a few celebrities, which makes Petra happy as he needs hers cut. It's funny how we have had coincidences. When she needed some medicine, we happened to be with a doctor, now she needs a haircut, we have a hairdresser. As I mentioned to her husband, with a bit of luck we will meet a mortician next.
View from the RV Park: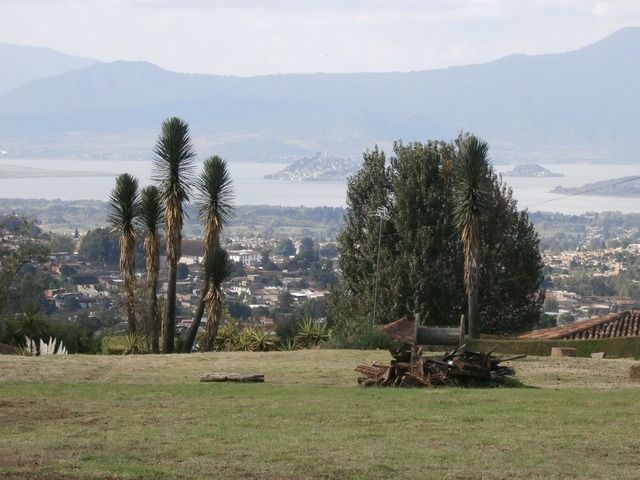 Nov 13, 2015
Today we did tours of some of the nearby villages including Santa Clara de Cobre, famous for its copper. I bought my wife some small things, I hope she likes them. She is flying down to join me in few days. looking forward to it, I miss her. Lunch at the restaurant we usually use was OK, but service was terrible. We were the only customers, about 8 waiters in there and they messed up 2 or 3 orders. It is also very expensive. Probably time to change venues for the next caravan. Sometimes the priciest place is not the best.
Nov 14, 2015
Today we did a tour out to Janitzio Island in the middle of the lake with the giant statue of Benito Juarez on top. This place is great and I always enjoy the boat trip. Somehow we managed to get Marian into the boat so she was able to join us. Mexicans always seem ready to help, no fears of liability like in the US, so they just jump right in and carry her where she needs to go. The people down here are wonderful. We were serenaded by musicians and watched the fishermen with their distinctive butterfly nets. After, we visited the huge Patzcuaro market.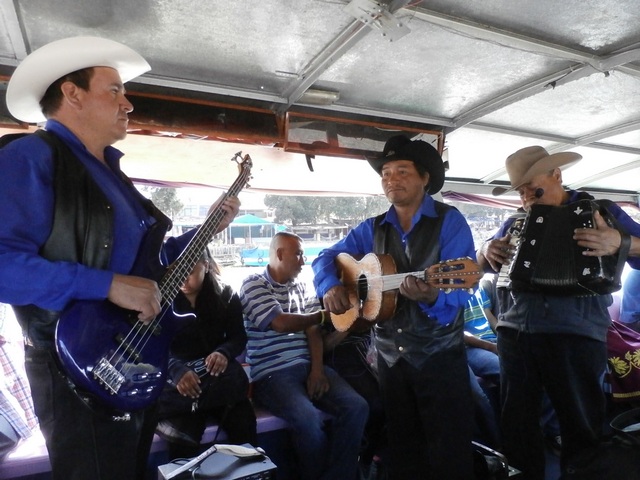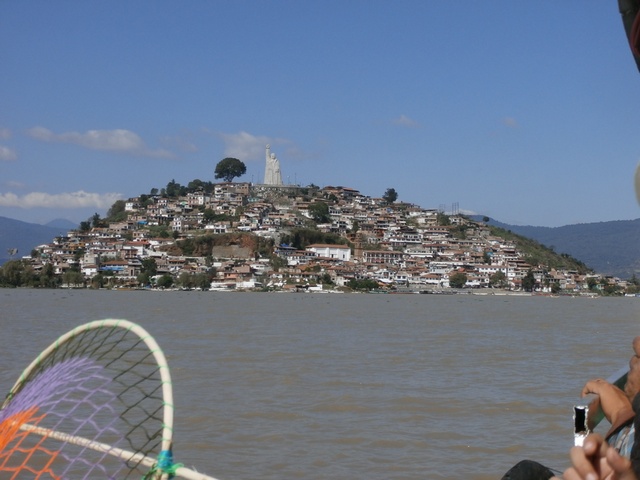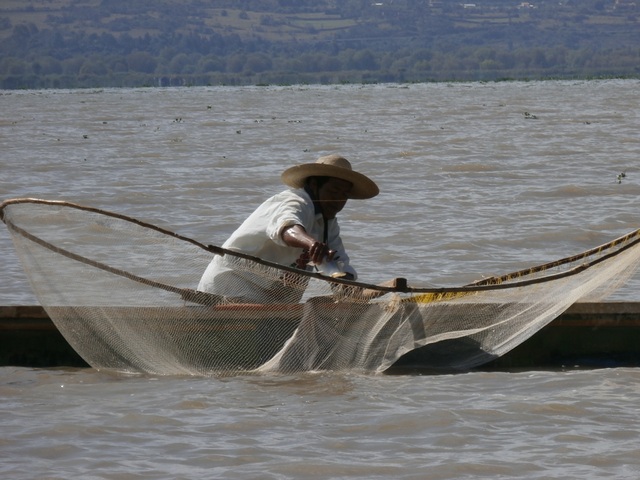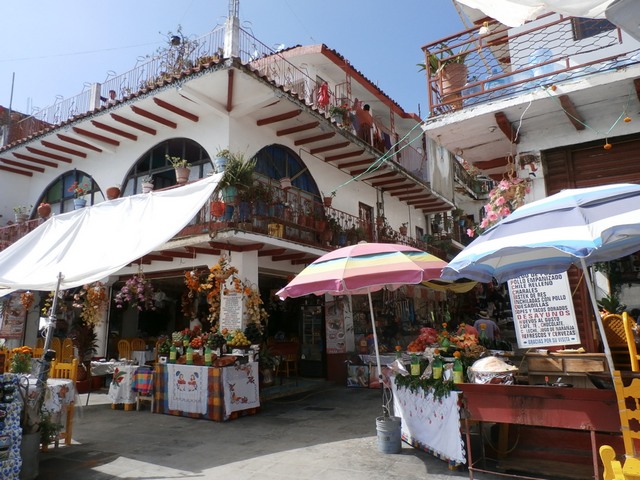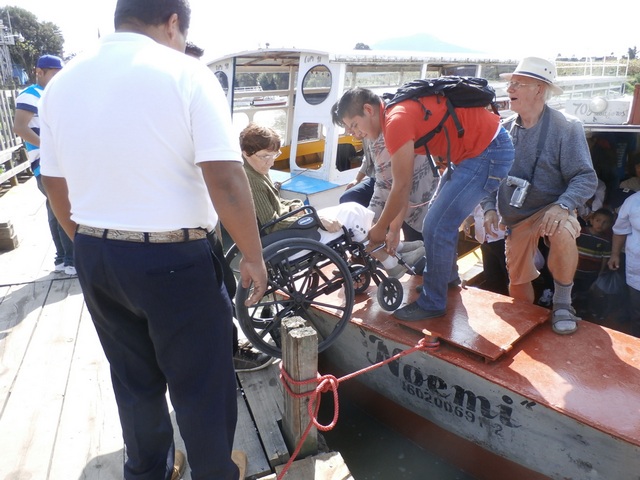 Nov 15 & 16, 2015
A long drive today to the Chimulco Hot Springs resort near Guadalajara, followed by a rest day.
November 16, 2015
Today we did a long tour to the Herradura Tequila plant and then to the Pyramids at Guachicostomones. Herradura is pretty much the oldest & best preserved Tequila factory in Mexico and is always interesting .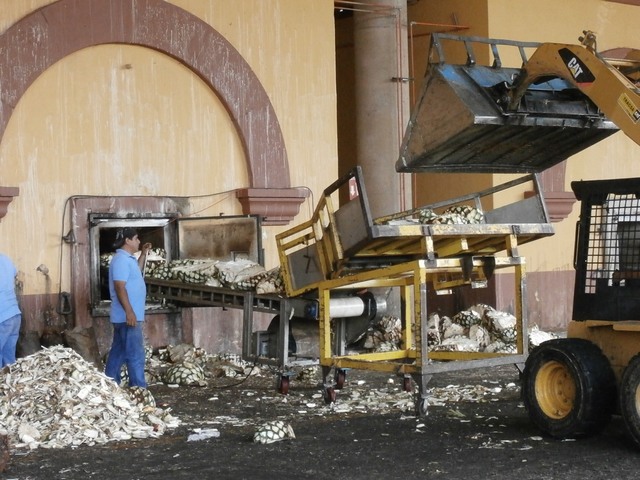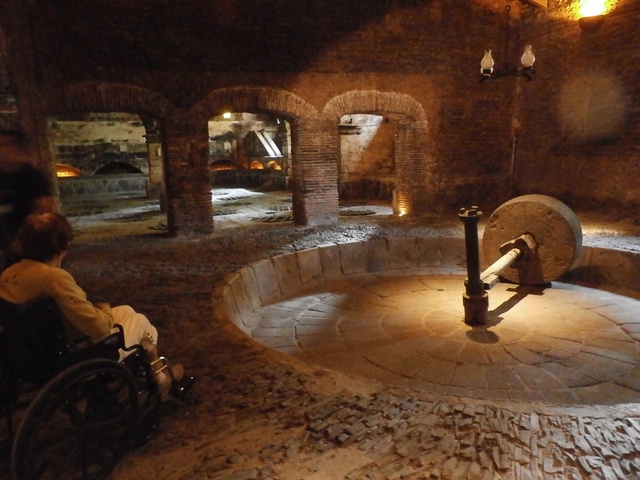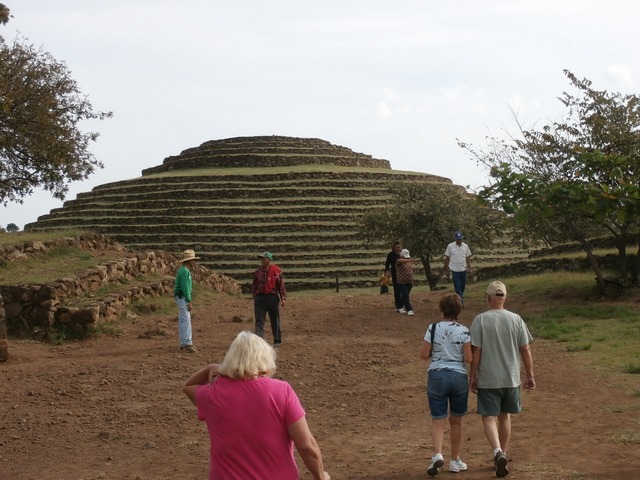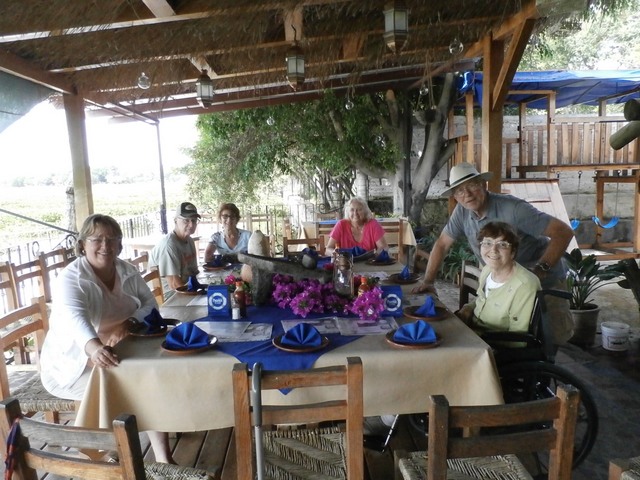 Nov 17, 2015
Today we did a tour of Guadalajara & Tlaquepaque. We have to do some changes on this one, The guide is very knowledgeable, but it's like attending history class so about 1/2 way through we decided to move to the open air bus. While its warm up there, people liked it much better, so that will become the new norm. Just have to tell them to bring umbrellas. We changed the restaurant we use for lunch and the food & service was much better than last year. Construction of a new subway line disrupted our access of the area around the Cathedral.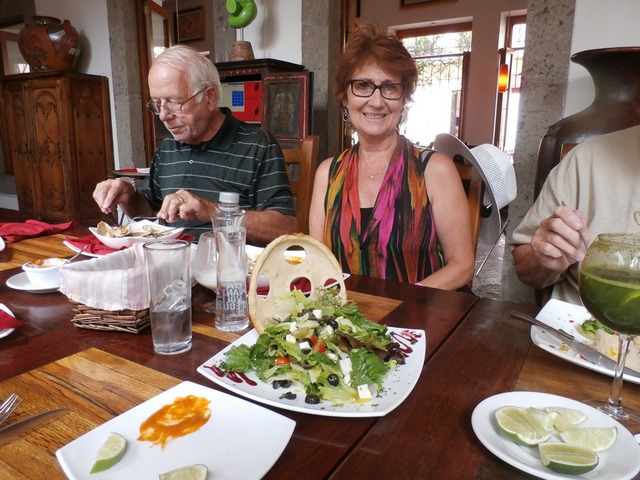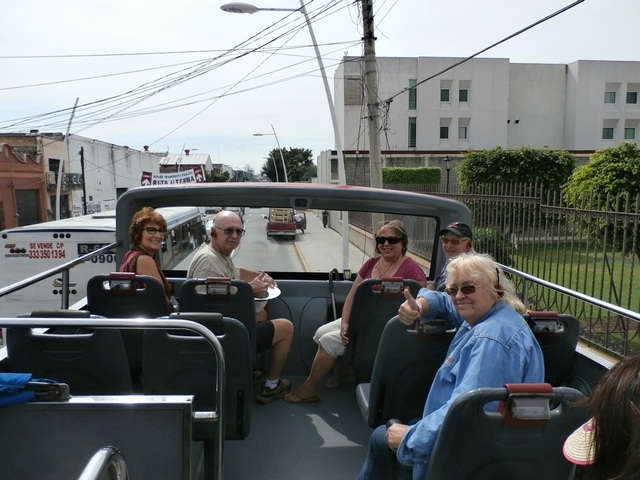 Nov 18, 2015
Back to coast. We did the drive to Melaque today. As we passed Colima Volcano, it decided to erupt and put on a show for us. We have to raise our prices.
There is quite a bit of evidence of damage from Hurricane Patricia which did a direct hit on the Melaque area, but they are cleaning things up quickly. This is the start of the less tour intensive portion of the trip so this blog will not be as active.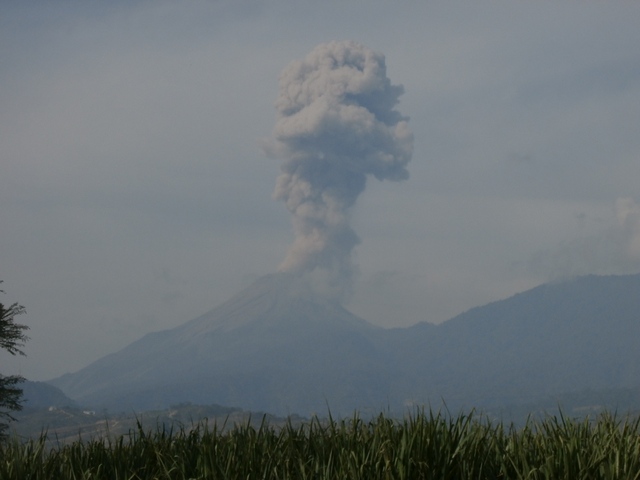 Nov 19-23, 2015
Not a lot to report, people are just chilling out. The weather is much hotter & more humid than this time last year so fortunately everyone has A/C. We did see the Independence day parade here, which consisted mainly of school children. We took a trip out to the beautiful beach at Tenacatita one day and a couple of the guys have gone off for an ATV excursion. We have had 2 excellent meals at the great restaurants in town here. Last night was Prime Rib. Now mid week, the tour buses in the hotel from Guadalajara are gone, and the pool is no longer full of Mexicans in their clothes (Mexicans always seem to swim fully clothed for the most part). It was also party time, so the quiet is nice. Some damage to the RV s that are stored here over the summer from Patricia, but only one has severe damage and judging by the exposed dry rot its days were numbered anyway. We saw lots of tree and roof damage from the highway on our way to Tenacatita. Jill has flown home for a week for a break and to give my wife & I (who has flown down for a week) some time alone. She had to take the bus to Puerto Vallarta and said there is severe damage north of here, and the road is bad. We will have to allow extra time for that leg. I am glad we are not in the non A/C small truck camper I was in last year. We would have died. The ocean temperature is very high and it is far more humid than normal. Climate Change I am sure is part of it, but this is also a very strong El Nino. It started last spring so hopefully it will have eased by the Spring caravan.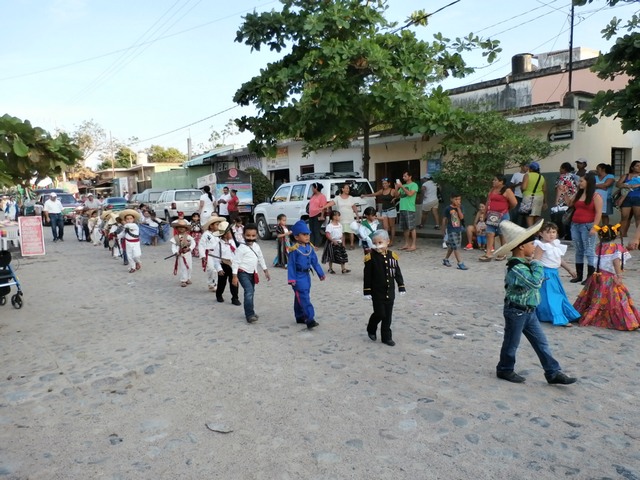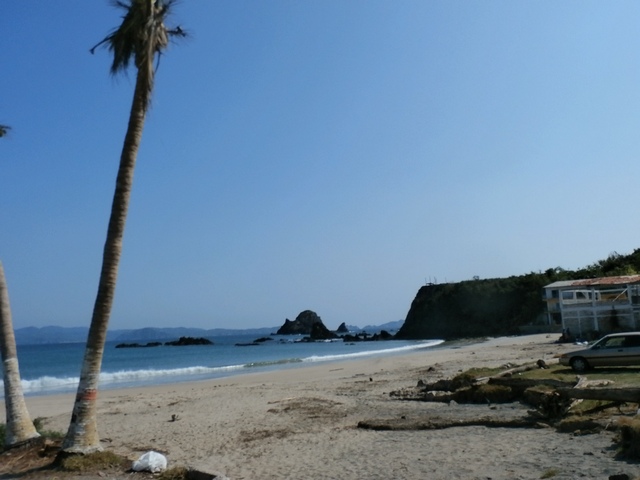 Nov 24, 2015
Frank, Wayne & I went deep sea fishing today. The guy had a bandaged arm, apparently from when a shark bit him on Saturday (he thought it was dead). Very reassuring. After 6 hours with nothing we headed back in and snagged a Marlin. It took 3 of us to get the thing close to the boat. It was huge, the guy who took us out said at least 150 Kg. Unfortunately just as he was about to gaff it, it dove and went under the boat and the line snapped on the bottom of the boat. Oh well, I doubt we could have got it in anyway. We saw a grounded freighter that washed up during Hurricane Patricia.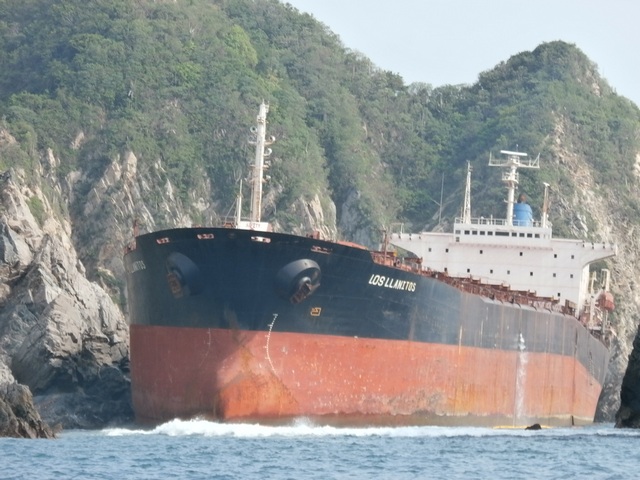 Nov 25th, 2015
We are watching the development of Hurricane Sandra. It should make landfall north of us on the weekend, probably Southern Baja and Mazatlan area. It is forecast to bring severe flooding. I may have to hold the caravan back a couple of days in Puerto Vallarta and cancel Las Glorias further north, depending on what happens. My buddy Dan Goy has a Baja Caravan direct in its projected path. Not good. A hurricane this late in the year is unusual. The ocean is unbelievably warm however.
Nov 26th - 27th, 2015
We headed north to Puerto Vallarta today before the rains from Sandra start. Just as well as the road was in bad shape from Patricia and there were a couple of detours through river beds involved. We have decided to stay in an RV Park in Puerto Vallarta for 2 nights, go to Lo de Marcos 2 days late, and then skip the dry camping at Chacala due to the heat & humidity. The rains started almost as soon as we hit Puerto Vallarta and it rained hard all night long.
We will have to see what the situation is further north in Mazatlan where the storm, now somewhat weakened, is expected to produce flooding. We will push north tomorrow to Lo de Marcos where we will spend 3 nights.
Nov 28th, 2015
The rain has stopped and signs are it is is clearing, we drove the 45 minutes north to Lo de Marcos.
Nov 29th, 2015
Brilliant sunshine is back again today. We are in La Parota RV park one of the most popular in Mexico.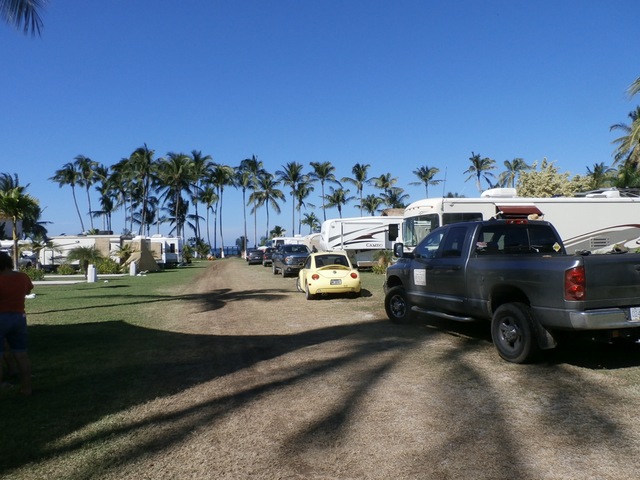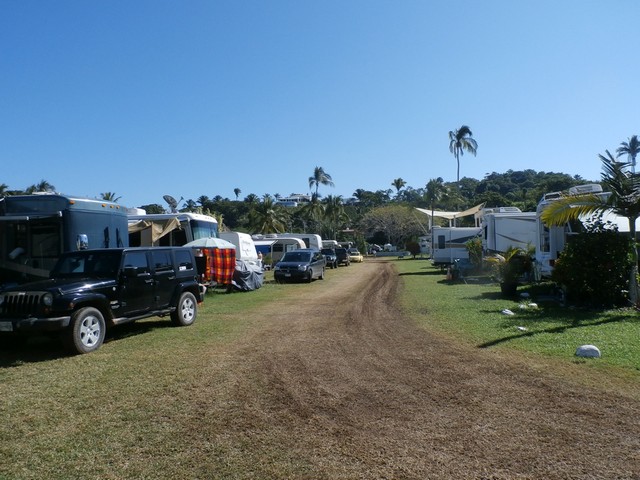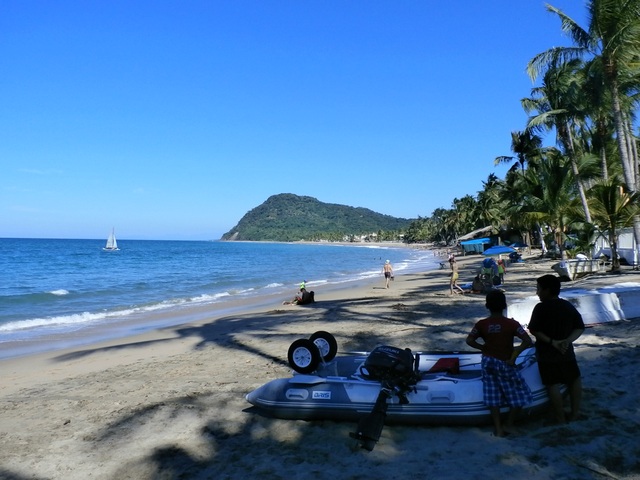 Dec 2, 2015
Today we drove up to San Blas and took the nature boat tour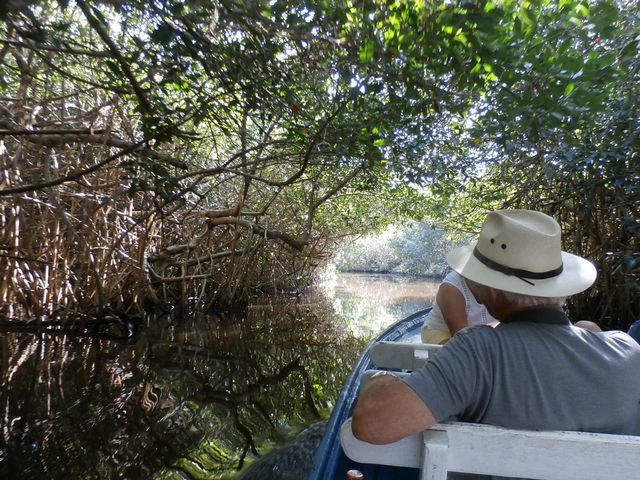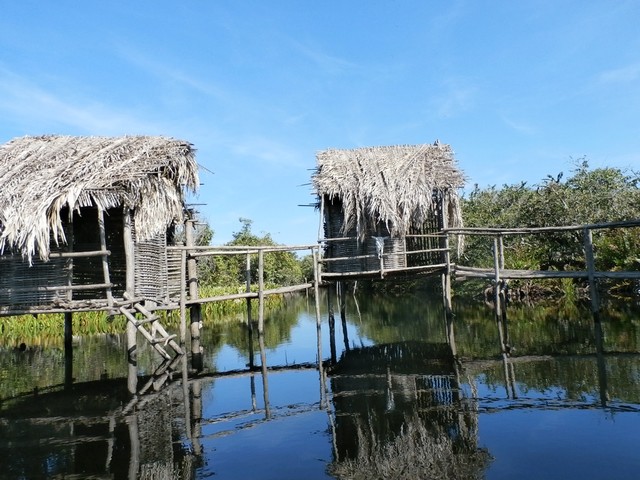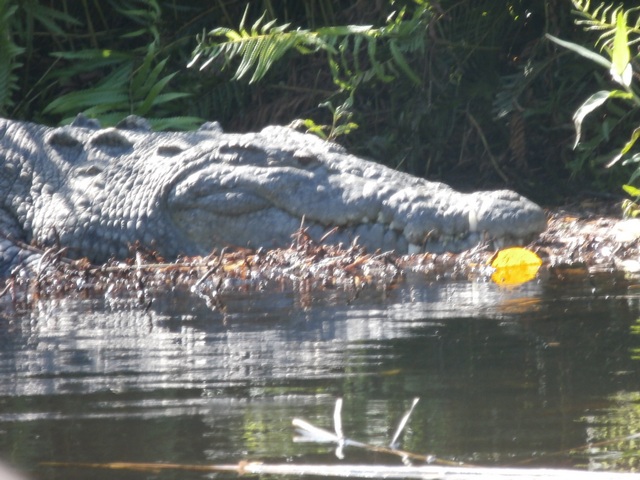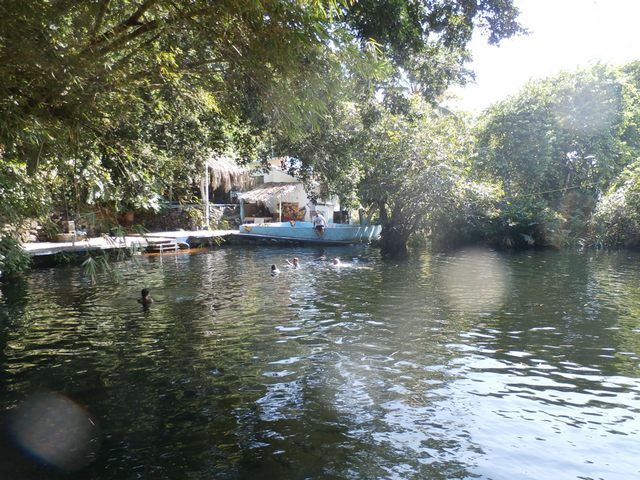 Dec 3rd, 2015
Back to Mazatlan for a night
Dec 4th, 2015
We stopped overnight in the awful Los Mochis RV park, I hit a tap hidden in long grass that was painted green. Fortunately it is just the metal skirt, which is a bolt on replacement. The insurance adjuster from Lewis & Lewis showed up in 15 minutes. I am going to leave it at the dealer in Bakersfield to be fixed when I drive home for Christmas. They will have almost a month. Gabriel has kindly offered to cover my deductable.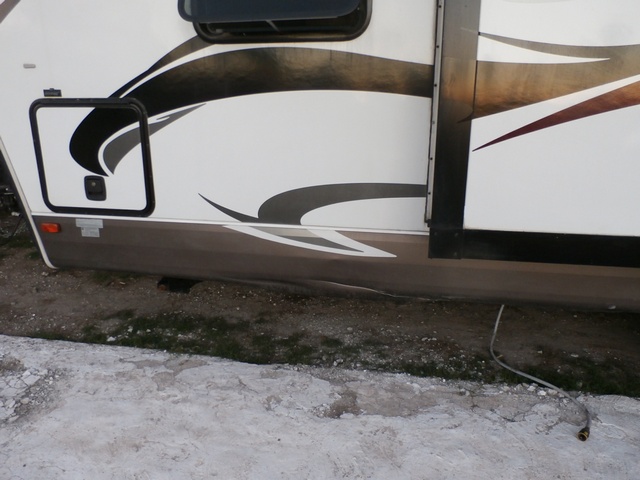 Dec 5, 2015
Today we drove to Alamos and did the city tour in the afternoon as well as lunch.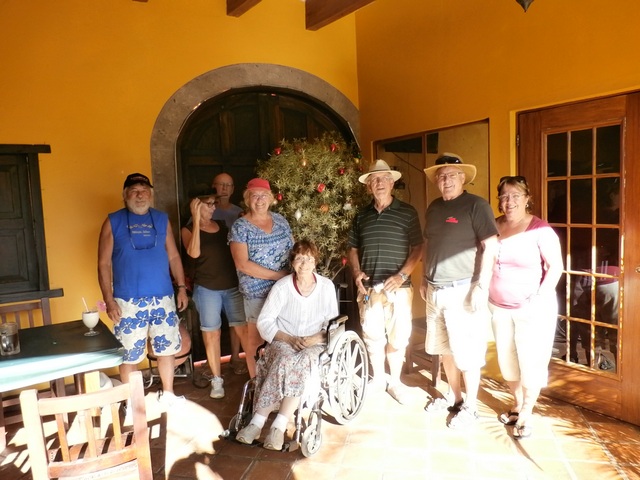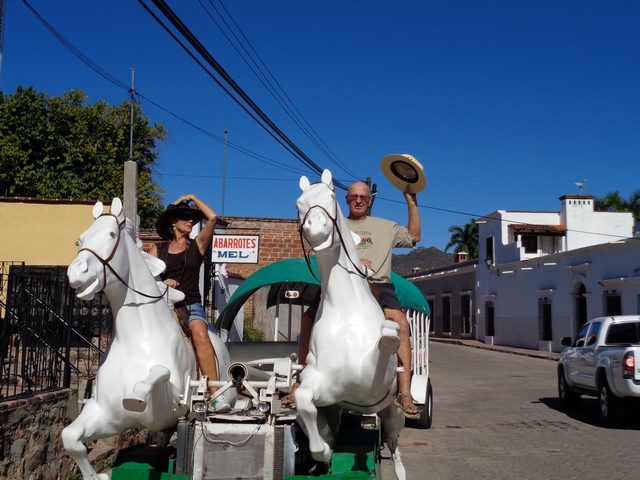 Dec 6 , 2015
This was a free day up until 6 PM when we went down to the square for another walk around with musicians similar to what we did in Guanajuato. This time we had a donkey to carry our booze. As was the case in Guanajuato, we started to pick up locals joining our soiree, but that was OK.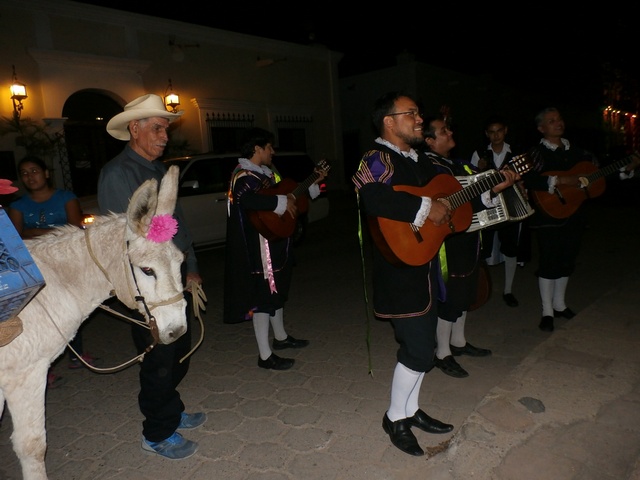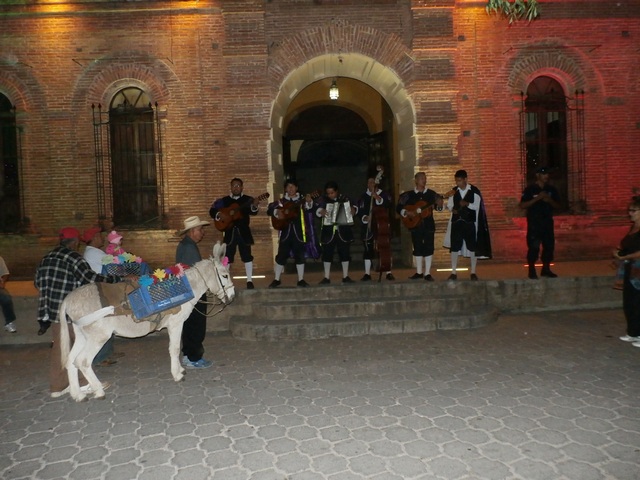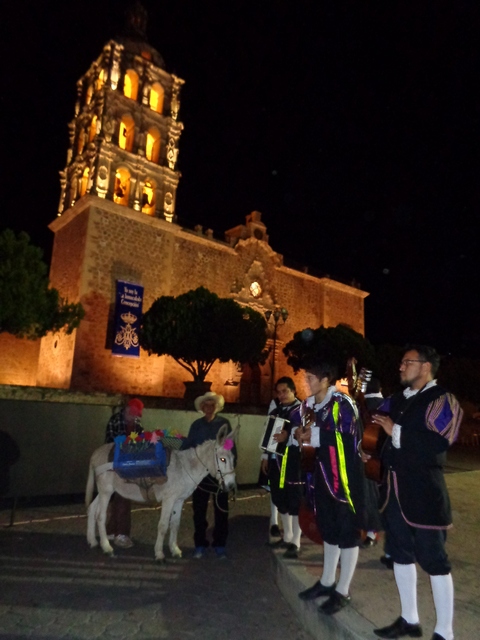 Dec 6th, 2015
An uneventful drive back to San Carlos We did our farewell dinner
Dec 7th, 2015
We did the run to the border at Nogales today. We stopped for group photos with "The Bird". This is our mascot. It was presented to us by the tourist department in Cuitzeo and it has been creeping us out ever since. I will be reverently handling it over to the Spring Caravan.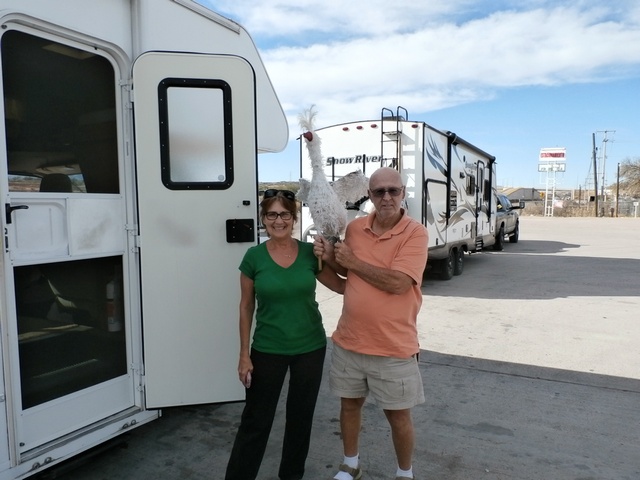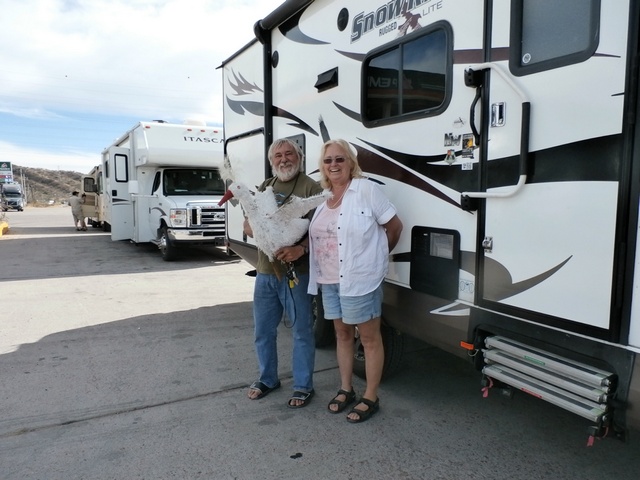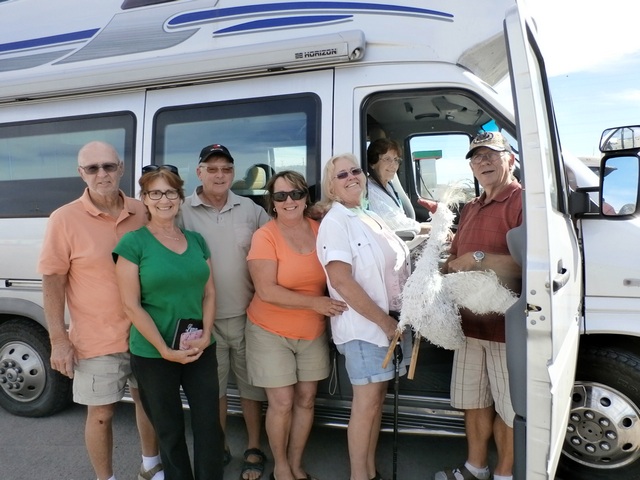 Another caravan successfully concluded.
Addendum April 2016
Sadly, the mascot is no more. A customer on the Spring caravan had a few too many and accidentally kicked him into the campfire. She could at least have had the decency to kick my wife in there instead of the beloved mascot. Alas he is no more, but we have replaced him with another.